Shigeki Sumi, Ambassador Extraordinary and Plenipotentiary of Japan to Ukraine
Forceful border changes can be neither allowed, nor forgiven
22.03.2017 18:00 1008
Shigeki Sumi, Ambassador Extraordinary and Plenipotentiary of Japan to Ukraine, tells in the interiew with Ukrinform when the real Ukraine-Japan partnership has started, what Tokyo expects from Ukraine in return for its aid, why Ukraine is attractive to investors, why there is no fake news in the Japanese media. The Ambassador also shares the Japanese travel and energy saving tips, the secrets of the Japanese "economic miracle" and the good relations of Tokyo with U.S. President Donald Trump.
JAPAN TO CONTINUE SANCTIONS AGAINST RUSSIA UNTIL ISSUE OF CRIMEA SETTLED AND MINSK AGREEMENTS IMPLEMENTED
- Japan, as well as the European Union and the United States, introduced the sanctions against Russia, which had annexed Ukrainian Crimea in violation of all the international norms. Will these sanctions be extended?
- Yes, I think that the Japanese prime minister and foreign minister have made it very clear that the Japanese government will extend the sanctions against Russia until the issue of Crimea is settled and the Minsk agreements are fully implemented.
It's principal because it is critically important for Japan not to allow any change of territory or jeopardizing the territory integrity by force. It could be neither allowed, nor forgiven in this century. Any territorial disputes between the countries should be settled by peaceful means as the international community has a lot of means of justice, including the International Court of Justice.
- On what condition could G7 become G8again?
- It's up to Washington and Russia. G7, unlike e.g. G20 is a group in which all members do share the same values: democracy, human rights, rule of the law. It's a must when being a member of G7 to strictly observe those three elements. Otherwise, I don't think G7 does its work well.
- Japanese leader was the first whom Trump met after election and inauguration with. How did Japan manage to reach this result?
- First of all, the US is a very important partner for Japan due to many reasons: security, economic. Japan and the US share the same values. In that case, it's no matter who is the president, no matter who will be a president. During the campaign, the Japanese embassy in Washington D.C. had very good relations with both candidates – Madame Hillary Clinton and Mr. Donald Trump. When the elections were over, the Japanese embassy had a very good connection not only with Mr. President but also with his staff. When the Japanese PM expressed willingness to come to Washington, Mr. Trump said: "Yes, be first". So he came to Washington D.C., Florida, played golf with President Trump, they established very good relations.
JAPAN-UKRAINE: FRIENDSHIP ADVANCED TO PARTNERSHIP AFTER MAIDAN
- What joint Japanese-Ukrainian programs do you consider to be the most successful ones?
- Japan and Ukraine have always had good relations. However, you may have good relations with those you don't have many interests with. You may have good relations with a friend, who lives far away.
Since the Maidan, the relations between Japan and Ukraine have changed from being a good friend to being a good partner. Japan is the only Eastern country who imposed sanctions on Russia.
There were large joint projects even before Maidan, for example, the project of the Boryspil Airport development [construction of terminal D]. However, Japan has allocated to Ukraine USD 1.86 billion since Maidan only. This aid includes about USD 1.1 billion for Bortnychi aeration station, USD 300 million in macro-financial assistance to support Ukrainian budget when Ukraine had financial difficulties. Everybody in Ukraine knows that Japan donated 1,600 traffic police cars and uniform and assisted in the renovation of 120 metro trains for Kyiv metro. In addition, Japan fixed many rooms and windows in many schools, provided hundreds of medical equipment to hospitals under the Kusanone program.
I believe that the assistance of the Japanese government opens up way to the private investment. Japanese investors do not go to a country if they know little about it. That really happened in Asia: the Japanese official aid goes to an Asian country and is later followed by the private investment. I really hope the same will happen in Ukraine.
By the way, the group of Japanese businessmen has recently arrived in Ukraine to explore the future investment opportunities.
On the whole, the attraction of Ukraine is highly qualified workers in combination with low wages and the free trade agreement with EU.
- What feedback do you feel from Ukraine?
- We are doing this for a special reason [laughs]. Japan expects that this aid will help Ukraine to really reform itself. Ukraine is a large country, both in terms of population and territory. If Ukraine is not economically and politically stable, this will have a great impact on Europe. Stability in Europe is a critically important issue for Japan. We really hope that the reform process in Ukraine will continue and Ukraine will be able to have its feet on the ground.
Second, we also hope that the Ukrainian leaders and people will pay more attention to the security issues in Asia, particularly, to North Korea nuclear weapon tests in violation of the resolutions of the UN Security Council... In addition, certain countries try to change the influence by force, by building artificial islands, etc. We have territorial disputes with Russia, which should be settled on mutually acceptable terms. Thus, we ask Ukraine to support Japan's stance on this issue. Nothing should be changed by force, the issues should be settled only in course of negotiations.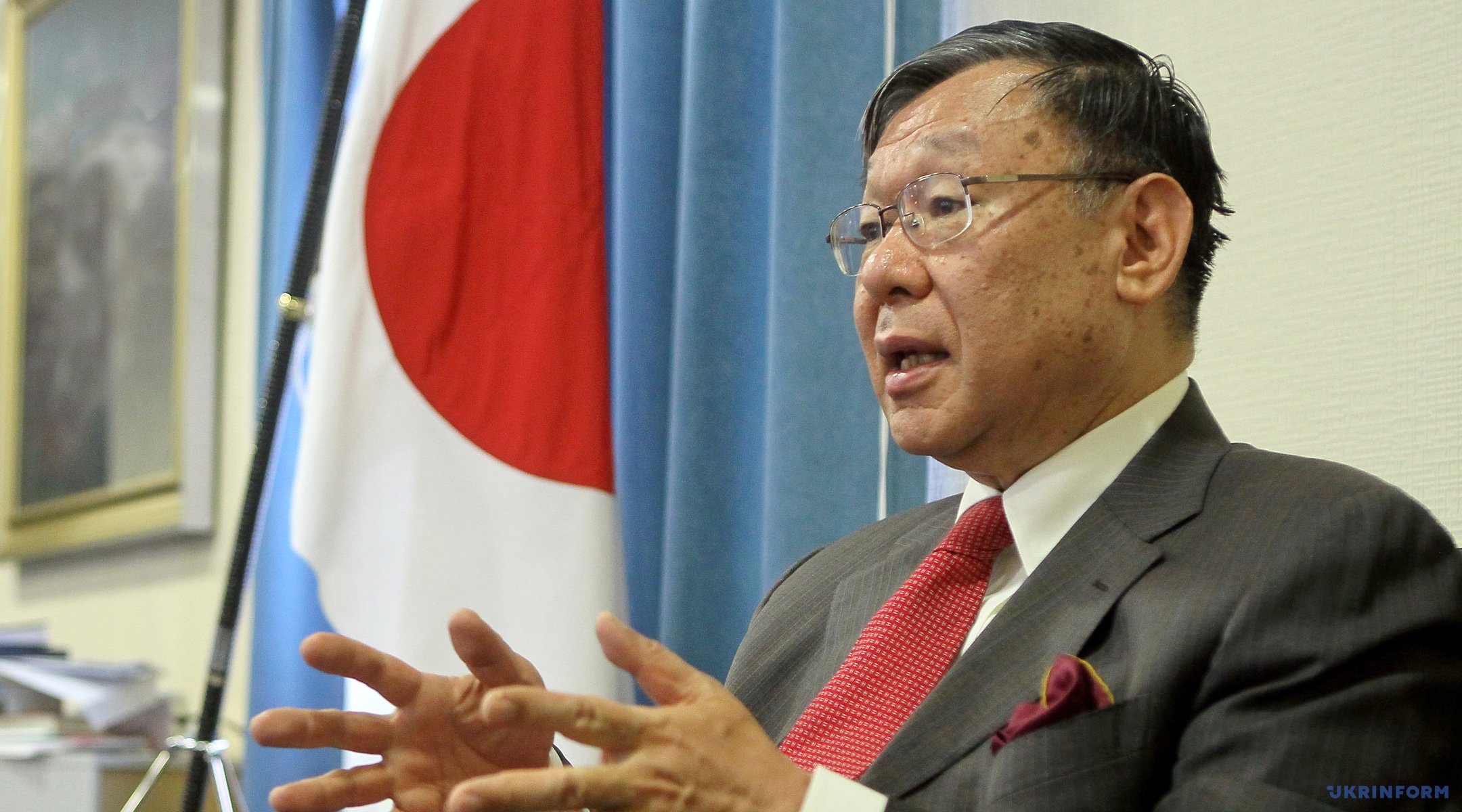 JAPAN TAKES MORE PRACTICAL APPROACH TO SECURITY
- What are the main security challenges in Europe and Asia in the opinion of the Japanese government?
- In the 2000s, many considered Europe to be the most stable and economically prosperous region in the world. However, later, Europe has faced many challenges: the migrants from the Middle East, the limits of national sovereignty of the EU Member States, and, of course, the Russian aggression in Crimea and Donbas. We hope that Europe, together with Japan will be able to cope with these challenges and will again be the region of the largest stability, economic prosperity, support for democracy and human rights.
The economy of Asia has been rapidly developing for last 15 years. This development has brought economic prosperity to many countries in the region, but that also has brought military and political expansionism.
I hope that Ukraine will grasp the dynamics of Europe and Asia and use its diplomatic power to overcome these challenges.
- What can you say about the reform of the Japanese defense forces in the context of the current security challenges?
- At this stage, Japan has to be a responsible global player, and there are two main directions of activity of the Japanese defense forces at the international level.
First, it is Japan's participation in the UN peacekeeping operations since 1991. In addition, Japan is involved in other international security events, such as the fight against Somali piracy, when Japan sent its sea forces accompanied with tankers and cargo ships.
Second, the alliance with the United States is very important. Japan has the unique Constitution, and we have no intention to change its spirit and the very wording. However, the interpretation of the Constitution, which was tolerated some time ago, is currently outdated. In particular, according to the old interpretation, if the Japanese and American fleet had been together and the US Navy ship had been attacked by some country, we could not have acted together with the Americans until the Japanese fleet was also attacked. We believe that this is not what the Constitution says. Now we have a new law: the Japanese fleet, which acts together with the American fleet, will be able to respond to the attack on the U.S. ship. Japan's approach to security becomes more practical.
REFORMS IN UKRAINE: NO TRUST IN COURTS MEANS NO EFFECTIVE BUSINESS
- Japan is one of the most developed world countries. It has demonstrated the "economic miracle" more than once. What is the reason for this? Japanese mindset? Rulers? Traditions?
- You can enumerate many reasons, but I will focus on several main ones, the combination of which, in my opinion, made the miracle of economic development in Japan possible.
The first reason is education. Since the ancient times, the Japanese have paid great attention to good education of their children. It is very important for the development of the country.
Second, when Japan began modernization 150 years ago, it implemented the effective European management model. This includes the independent and transparent system of courts and prosecutor's offices, fight against corruption.
The third reason is the attitude. Persistent work is one of the moral norms of Japanese society. The Japanese are proud of those who work well.
- Ukraine is now undergoing the process of large-scale reforms. Could you advise us something?
- Ukraine has good education system. This is a great advantage. But, unfortunately, the ruling system is under development. For example, if you ask people in Japan "Do you trust judicial system or ruling of the judges?", 99% would say "yes", because they are independent, transparent and fair. However, that is not a case in Ukraine. People do not have any trust in judicial system, by last year statistics, more than 90% of people would say "No, we don't trust judicial system: it's biased, it's not fair and it's influenced by the limited number of the people".
Unless you have transparent prosecutor system, how a good business could be done? I mean, that has happened many times to Japanese companies which have been selling the same products to Ukraine for the last 20-30 years. Suddenly, a representative of the fiscal service or the prosecutor's office, or the Security Service of Ukraine comes to a Japanese company and says: "We have been informed that you are selling dubious goods." It's quite obvious that somebody, I mean interested or rival company came to the Security Service and said: "This Japanese company is doing devious business." It is unfair. This Japanese company has been allowed to sell these goods in Ukraine for last 30 years, so why has this question appeared now? Such a situation is impossible in Japan.
Another important issue is rejection of corruption. In Japan, it refers to moral standards. If any of the officials takes even a small bribe, not even $500, he will not only be held liable, but will be severely punished by society, which does not accept corrupt officials.
Ukraine is trying to make its own system of courts and prosecutor's offices more transparent and fair. I hope that Ukraine will manage to develop a very good ruling system.
JAPANESE ENERGY SAVING TIPS: NOT ABOVE 19 DEGREES IN WINTER, NOT BELOW 26 DEGREES IN SUMMER
- Energy sector is one of the most important areas for reforms in Ukraine. What advice would you give us to start the energy conservation project? And what is Japan's approach now to the use of nuclear energy after the Fukushima disaster?
- After the Fukushima accident people realize the danger of atomic plant, so the Japanese government suspended the operation of all atomic energy plants in the country. Then, after inspection, they begin to open. Reopening of atomic plants started after checking.
At the same time, the Japanese government realizes that we cannot rely only on atomic energy plants. In the future the so-called renewable energy will develop, but it takes some time because it's not viable comparing to the cost of the atomic energy, to the cost of oil and natural gas.
The energy conservation works very well in Japan, Japanese energy efficiency is one of the highest. In particular, there are rules set by the government, it cannot be over 18-19 degrees in winter, and in summer you cannot make lower 26-28 degrees by air conditioning.
I think that people in Ukraine have to change their minds, the energy conservation is very important. I think it's good that the government of Ukraine raised electricity prices. But it is necessary to explain people that these measures are carried out no to collect money. Of course, it's not popular, but as I said energy is not free, Ukraine, like Japan, is not rich in energy resources.
- Is it true that people who were relocated after the accident of Fukusima returned to their homes? Do your studies show that it is already safe there?
- Yes, because when the Fukushima disaster happened, people in radius of 30 km were asked to leave their towns. But now Japan declares more and more territory safe. People start returning home, of course, people found their homes not the same as six years ago. So now we have the second stage, but even now Japan can learn a lot from Ukraine's Chernobyl experience.
- Japan is studying the Ukrainian experience in liquidation at the Chernobyl NPP and financing assistance programs to the victims of the accident, in particular, it provides the most modern diagnostic equipment to the Ukrainian people living in contaminated areas. What is the total amount of such aid? Will it be extended?
- It is very difficult, because in this case the aid was not only from the Japanese government but also from the Japanese people, who felt sorry for the Ukrainian people. For Chernobyl New Safe Confinement that was installed last year, Japan allocated 20% of the construction costs. Many experts from Hiroshima and Nagasaki came to Ukraine, as well as many different funds provided medical equipment to those who suffered as a result of the Chernobyl disaster. I do not have an accurate estimate, but this aid cannot be less than USD 300 million. Many scientists still come from Japan to Ukraine to study the effects of radiation, and they meet with people who were evacuated from Chernobyl 30 years ago.
JAPANESE ONE DAY TRIP AND ALL-UKRAINIAN SAKURA CAMPAIGN
- This year has been declared the Year of Japan in Ukraine. Could you tell more about the scheduled events?
- The Year of Japan in Ukraine is held in accordance with the decree of the President of Ukraine. Now the Ukrainian leaders understand the importance of partnership between Ukraine and Japan. However, most Ukrainians have limited knowledge about Japan and Japanese culture, the general image is good, but that's all.
The Embassy of Japan together with the Ukrainian government organizes many activities, not only in the cultural sphere.
Among other things, we want to launch the sakura campaign in Ukraine. Sakura is very popular in Ukraine. Fortunately, the Ukrainian climate allows sakura to bloom.
Planting of sakura trees is planned not only at the expense of the Japanese government but also of the local budgets. The planting of one tree that blooms after three years costs around 60-70 dollars.
- Are there any traditional types of vacation of a Japanese family?
- Now people in Japan have longer holidays, at most two weeks. It's not like in Europe, when people have long vacation which lasts for 20-30 days. But among Japanese families it's very popular to have a one-day trip, I mean Saturday or Sunday or a family goes "onsen" – it means "hot springs" in Tokyo.
- What is the average intake of sake per a Japanese man annually?
- I don't have information how much sake in average a Japanese man drinks (laughs). Of course, sake is a very popular drink in Japan, but you are unlikely to see drunk people in the street.
- When you have the opportunity to go on a one-day trip in Ukraine, where do you go?
- My favorite place is Sofiyivka Park in Uman. I and wife love this place because we like walking in the beautiful garden. We have already visited this park a lot of times.
- Are you interested in the Ukrainian architecture?
- I am interested very much in church architecture. And I never get tired of visiting various cities, where there are beautiful churches and monasteries.
- What place could you call a kind of brand of Ukraine?
- Ukraine is a big country, each region has its own culture, architecture, and it attracts. Lviv is not the same as Kyiv, I mean architecturally, culturally, and Odesa is not the same, Kharkiv is not the same… I think there are many places to visit in Ukraine, but the only problem is road condition – it's very bad.
The Tunnel of Love is very popular in Japan, it's in Rivne region. Japanese film director Akiyoshi Imazeki made the film about the love of a high-school teacher and his lovely student. It was shown in Japan two years ago. This is a great film.
- What Ukrainian media do you use to get information about events in Ukraine?
- Channel 5 is very popular. I do not read in Ukrainian, but every day in the Embassy we have a so-called press meeting, where we are informed about major Ukrainian news, and then we discuss them.
- Is the problem of fake news actual for Japan?
- It is very important to prevent the spread of fake news. In Japan, it is regulated by the public. The Japanese people believe that all media - newspapers and TV - should have news based upon the facts. And the spread of fake news is punished by the society. People do not buy newspapers and do not watch channels if they find fake news.
- What about legal liability?
- For example, if I find any fake news about me on TV, I can appeal to the court. The process will take some time for the court to consider and give a ruling that the reputation of Mr. Sumi is damaged because of fake news, but the media will be forced to pay compensation.
- Are you informed at the press meetings in the Embassy about information that Russian media writes about Ukraine?
- Yes. We do not start without their lies (smiles). I think that this is a part of the hybrid war. Ukraine has to pay more attention to the danger of fake or hybrid war, because, for example, Russia disseminates an idea that the Ukrainian government has no power, etc. Therefore, the work of the Japanese Embassy is very important to get accurate information and to know whether it's true or not. (laughs).
Oleksandr Kharchenko, Natalia Kostina, Kyiv
Photo: Volodymyr Tarasov