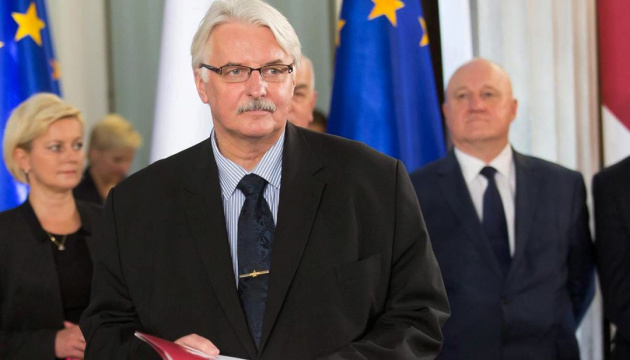 Polish-Ukrainian relations should not be imprisoned by the past – Foreign Minister of Poland Waszczykowski
Polish-Ukrainian strategic partnership is increasingly being filled with positive content.
Warsaw supports Kyiv on the path of European integration and implementation of domestic reforms, admitting that historical problems should not affect further relationship.
Polish Foreign Minister Witold Waszczykowski said this, while delivering the speech on the principles of foreign policy in 2017 at the Polish Sejm, an Ukrinform correspondent reports.
"Poland supports European aspirations of Ukraine. We also believe that full implementation of the Minsk agreements is the basis for the peaceful settlement of the conflict [in eastern Ukraine]," Waszczykowski said.
According to him, the last year visits of Polish President Andrzej Duda to Ukraine and
Ukrainian President Petro Poroshenko to Poland proved the strategic nature of relations between the countries.
"We support Ukrainian reforms in the field of decentralization, local government, combating corruption," the head of Polish diplomacy said.
Waszczykowski noted that last year was "good" for the parties' cooperation in the defense area.
The Minister recalled that the joint Lithuanian-Polish-Ukrainian brigade took part in the Anaconda 2016 drills in the summer of last year, and the Poles together with the Americans and Canadians trained Ukrainian troops at the Yavoriv ground in Lviv region. He reminded that the countries had recently signed an important agreement on cooperation in the defense sector, opening up broad prospects for cooperation.
Waszczykowski underscored that Poland did not just express concern, but also gave adequate response in the light of the crisis in Ukraine.
"Specifically, more than 1.2 million visas were issued at our consulates in Ukraine last year, including more than 650,000 work visas," Waszczykowski said. He added that Polish labor market benefited from that as it was looking for workers in various fields.
Polish Foreign Minister also noted that Poland "does not lose sight of historical issues."
"We believe that a true strategic partnership should be accompanied by truth. However, we do not want our bilateral relations to be imprisoned by the past," the Polish diplomat said.
The Minister stressed there was a need to restore the proven format of the Polish-Ukrainian Partnership Forum, as well as to establish the Polish-Ukrainian Neighbourhood Center, which would serve a purpose of the rapprochement between the countries.
ol