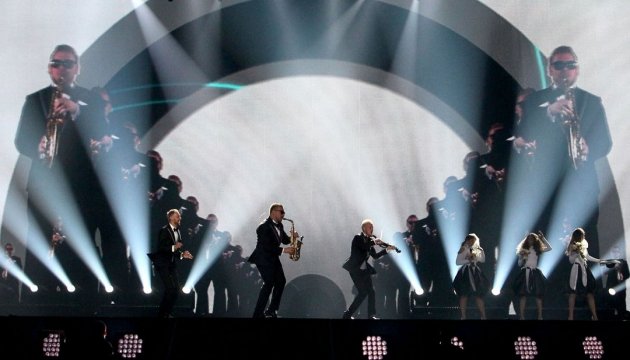 Kyiv to host Grand Final of Eurovision 2017 today. Videos of contestants
Twenty-six contestants will perform in the Grand Final of the Eurovision Song Contest 2017 at the International Exhibition Center in Kyiv at 22:00 today, on May 13.
The representatives of Moldova, Azerbaijan, Greece, Sweden, Portugal, Poland, Armenia, Australia, Cyprus and Belgium became the finalists following the first semi-final held on May 9.
Another ten finalists were determined in the second semi-final on May 11. These are the representatives of Bulgaria, Belarus, Croatia, Hungary, Denmark, Israel, Romania, Norway, the Netherlands and Austria.
The so-called 'Big Five' — France, Germany, Italy, Spain and the United Kingdom — and Host Country, Ukraine will join the singers and bands from the abovementioned directly in the Grand Final.
The contestants will perform today in the following order:
1. IMRI - I Feel Alive (Israel)
2. Kasia Mos - Flashlight (Poland)
3. Naviband - Story of My Life (Belarus)
4. Nathan Trent - Running On Air (Austria)
5. Artsvik - Fly With Me (Armenia)
6. OG3NE - Lights and Shadows (the Netherlands)
7. Sunstroke Project - Hey Mamma (Moldova)
8. Joci Papai - Origo (Hungary)
9. Francesco Gabbani - Occidentali's Karma (Italy)
10. Anja - Where I Am (Denmark)
11. Salvador Sobral - Amar Pelos Dois (Portugal)
12. Dihaj - Skeletons (Azerbaijan)
13. Jacques Houdek - My Friend (Croatia)
14. Isaiah - Don't Come Easy (Australia)
15. Demy - This is Love (Greece)
16. Manel Navarro - Do It For Your Lover (Spain)
17. JOWST - Grab The Moment (Norway)
18. Lucie Jones - Never Give Up On You (the UK)
19. Hovig - Gravity (Cyprus)
20. Ilinca ft. Alex Florea - Yodel It! (Romania)
21. Levina - Perfect Life (Germany)
22. O.Torvald – Time (Ukraine)
23. Blanche - City Lights (Belgium)
24. Robin Bengtsson - I Can't Go On (Sweden)
25. Kristian Kostov - Beautiful Mess (Bulgaria)
26. Alma – Requiem (France)
ol