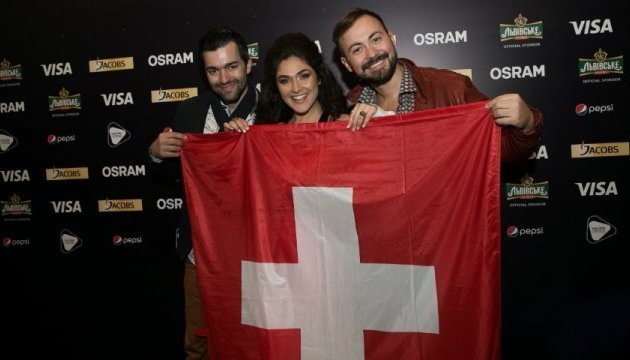 Eurovision participants of Lithuania, Belarus, Bulgaria, San Marino, Australia and Switzerland share their impressions of Kyiv
Participants of Eurovision 2017 from Lithuania - Fusedmarc band, Belarus - Naviband, Bulgaria - Kristian Kostov, San Marino - Valentina Monetta & Jimmie Wilson, Australia - Isaiah and Switzerland - Timebelle band say during the autograph session at Gulliver Shopping Mall that they are impressed by Kyiv, people and delicious Ukrainian cuisine.
Artists gave the autographs and communicate with fans during more than an hour, an Ukrinform correspondent reports.
In particular, fans asked the performers what they were most impressed with in Kyiv and what they would like to take as a souvenir.
"I would like to take your borshch. It's wonderful! I would eat it every day," the singer from Switzerland said.
Isaiah from Australia said that he liked Ukrainian varenyky and marshmallows a lot. "Your city is very green. I've come to Europe for the first time, and I'm impressed by the architecture of Kyiv and people," he said.
The participants of Eurovision 2017 from San Marino noted a warm welcome of Ukrainians and admitted that they would like to get more positive emotions and have fun.
The youngest participant of Eurovision, 17-year-old Kristian Kostov, who was born in Moscow and now represents Bulgaria, noted that he visited Ukraine for the first time, however, he felt like at home. "I will advise my friends to visit Ukraine," Kostov assured.
The performers from Belarus arrived in Ukraine not for the first time, earlier they visited several cities.
"We came to the Eurovision Song Contest to tell about our Belarusian language. We thank you for support that we feel," the Naviband members from Belarus said to the fans.
The participants of the Eurovision Song Contest-2017 from Lithuania said that for three days in Kyiv they felt like at home. They also noted the beauty of the Ukrainian capital.
As reported, the first autograph session of representatives of Georgia, Latvia, and Ukraine in the Eurovision Song Contest 2017 was held at Gulliver Shopping Mall yesterday.
ish