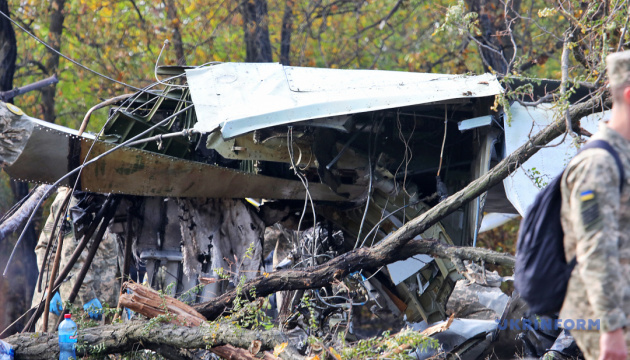 Probe into An-26 plane crash revealed gross violations - Urusky
The investigation into the September 25 crash of an An-26 military plane near Chuhuiv, Kharkiv region, has revealed gross violations in the performance of flight tasks and in the organization of flights, according to Ukraine's Deputy Prime Minister Oleh Urusky, who heads the commission investigating the plane crash.
"Today we can state that following the examination of the flight recorders, the reconstruction of the tragic sixth flight of the An-26 aircraft has been completed, and the content of negotiations between the crew members and with the flight management has been established," Urusky wrote on his Facebook page.
According to him, the technical reason for the abnormal operation of the left engine was also determined – this happened due to the failure of a unit of the engine's control system.
"The investigation also revealed the existence of gross violations both in the performance of flight tasks and in the organization of flights in general," Urusky said.
He stressed that the government commission investigating the causes of the An-26 crash continues to work. The Ministry of Defense is due to complete its own official investigation on October 12, 2020, and the materials will then be handed over to the military enlistment offices.
"The payment of compensation to the families of the victims is expected to begin tentatively after October 15, 2020," Urusky said.
An An-26 plane of the Ukrainian Air Force crashed while trying to land at the airport near the city of Chuhuiv late on September 25. There were 27 people (seven crew and 20 cadets) on board the aircraft.
Twenty-five people died at the crash site, and one cadet, Vitaliy Vilkhovy, died at the hospital from burns. Cadet Viacheslav Zolochevsky survived the crash. He was diagnosed with bruises, wounds and concussion, and is undergoing treatment.
op