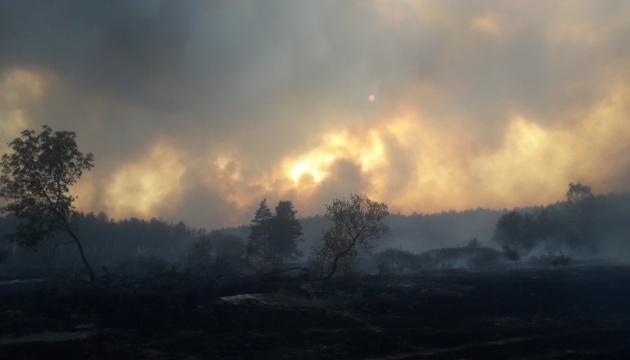 Losses from fires in Kharkiv region preliminary estimated at UAH 640M
According to preliminary estimates, losses from a large-scale forest fire in Dvorichne district of Kharkiv region amount to UAH 644.3 million.
According to the Kharkiv Regional Department of Forestry and Hunting, the fire is currently not spreading and is under control. Two An-32P aircraft, one Mi-8 helicopter, two fire trains, seven tractors, about 90 fire trucks, and hundreds of people have been involved in extinguishing the fire.
Foresters also calculated the losses from the fire in Chuhuiiv district of Kharkiv region, which also occurred the day before. The approximate area of this fire is 45 hectares, and the losses amount to at least UAH 52.3 million. Losses from forest damage make up UAH 50 million.
On September 2, a wild fire broke out near the village of Horobyivka, Dvorichne district, Kharkiv region, as a result of which at least 22 houses were destroyed, more than 50 people were evacuated, and 33 were left homeless. The total area covered with the fire is 500 hectares, including 100 hectares of a crown fire.
It was also reported that a fire broke out near a military training ground in Chuhuiiv district. The police qualified the incident as arson.
As of the morning of September 3, the work was underway to extinguish the fire in Dvorichne district on an area of about 100 hectares and some fire seats in Chuhuiiv district.
ish