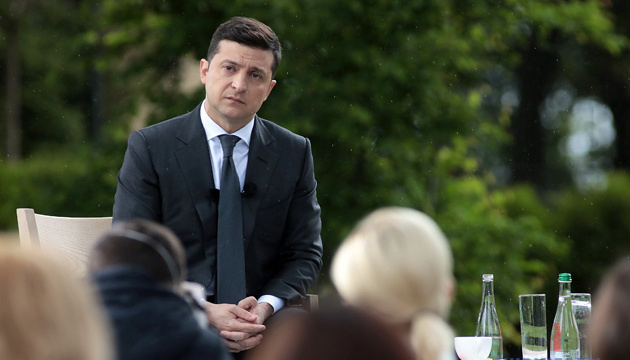 Zelensky arrives in blaze-hit Luhansk region
Ukrainian President Volodymyr Zelensky has arrived on a working trip to Luhansk region due to large-scale wildfires in the Novoaidar district, the press service of the President's Office has reported.
"The head of state will inspect the area of the fire and hear a report by the head of the Luhansk Regional State Administration and representatives of the State Emergency Service on the elimination of the emergency situation," the report said.
A forest fire broke out on the territory of the Borovske and Okhtyrske forestries on an area of about 50 hectares near the village of Oskolonivka, Novoaidar district, Luhansk region, on July 6. The fire was contained early on July 7, but due to gusty winds and high air temperatures, the fire spread to the village of Smolianynove, Novoaidar district. The work is also underway to put out the blaze on an area of about 40 hectares near the village of Kapitanove.
The Ukrainian Interior Ministry reported on July 7 that the fire had killed six people. At the same time, Luhansk regional police said early on July 8 that four citizens had been killed in the fire and the whereabouts of one citizen had not been established. Twenty-seven locals, including 22 children, were evacuated.
The fire destroyed 23 houses and damaged 59 more. Some 1,125 people and 201 units of equipment are involved in firefighting efforts.
The police opened criminal proceedings under Article 270 (violation of fire safety requirements established by law) of the Criminal Code of Ukraine.
op