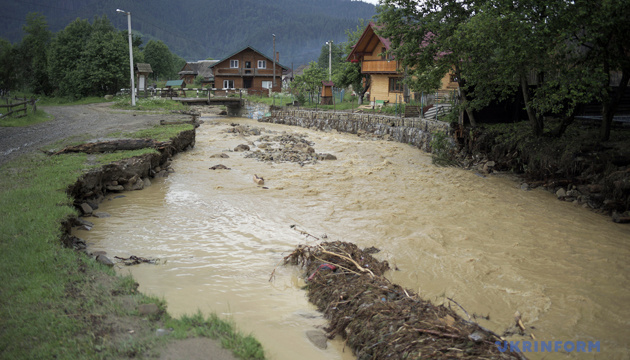 Losses from floods in Chernivtsi region preliminary estimated at UAH 1.3 bln
According to preliminary estimates, losses from bad weather and floods in Chernivtsi region amount to UAH 1.3 billion.
Head of Chernivtsi Regional State Administration Serhiy Osachuk stated this at a briefing, an Ukrinform correspondent reported.
"We can't tell yet the final figure of losses. Because still there are flooded districts, somewhere the swamp has not dried up, somewhere people do not know whether their house will stand or it will move from the landslide. As of the morning of July 2, the amount of losses made up UAH 1.3 billion," Osachuk said.
According to him, Chernivtsi region has received the first 30 million hryvnias allocated by the government for the region. First, these funds will be used to restore the roads that have been damaged the most.
Osachuk has said he hopes that along with the next tranches from the Cabinet of Ministers, the region will receive an algorithm of compensation payments to people for the damage caused by bad weather.
As Ukrinform reported, heavy rains on June 22-24 caused floods in Ivano-Frankivsk, Chernivtsi, Lviv, and Ternopil regions. Three people were killed in floods and one more went missing. Hundreds of kilometers of roads, dozens of bridges were destroyed, and hundreds of people were resettled.
The Cabinet of Ministers allocated almost UAH 700 million for the needs of the regions to eliminate the consequences of the natural disaster.
iy