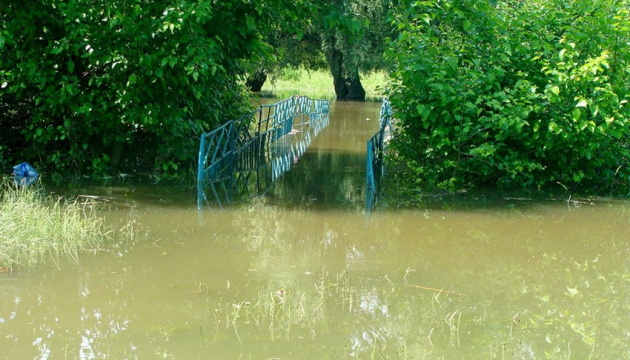 Zelensky comments on floods in western regions: It's time to find systemic solution to solve problem once and for all
President Volodymyr Zelensky demands that the Government finds a systemic solution to address the problem of annual flooding in the western regions of Ukraine.
Zelensky stated this during a conference call on overcoming the effects of extreme weather in western Ukraine, where Prime Minister Denys Shmyhal reported on the latest information on the emergency situation in Ivano-Frankivsk region, the President's press service reports.
"Every year, we spend from 500 to 800 million to eliminate the consequences. And this year, probably, we will spend more than a billion hryvnias. It's time to find a systemic solution, to strengthen the banks of rivers. To strengthen the banks of the Dniester River, the Tysa River in order to solve this issue once and for all. It is necessary to elaborate a real big program with the involvement of foreign experience, and not to lose people and money every year," Zelensky stressed, addressing the Prime Minister.
According to the President's Office, more than 200 populated localities in Ivano-Frankivsk region have been flooded, and there is no access to 29 localities due to adverse weather conditions. In the region, 110 km of roads and 90 bridges have been destroyed. The disaster killed three people. One person went missing.
In Ivano-Frankivsk, Lviv and Chernivtsi regions, 429.7 km of roads and 130 bridges have been damaged. Transport links with 34 populated localities have been disrupted.
On the morning of June 24, Prime Minister Denys Shmyhal, Interior Minister Arsen Avakov, Commander of the National Guard of Ukraine Mykola Balan, Head of the State Emergency Service of Ukraine Mykola Chechotkin flew to Ivano-Frankivsk region to coordinate forces in overcoming the effects of extreme weather.
ol