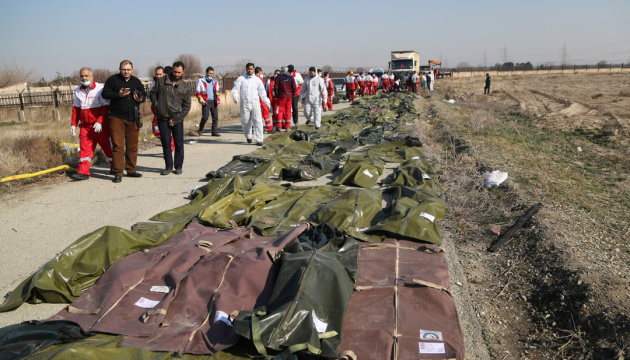 Identification of bodies of Ukrainians killed in UIA plane crash completed
Experts of the Ukrainian Interior Ministry have received DNA profiles of the remains of all 11 Ukrainian citizens who died in the crash of a UIA plane in Iran. Preparations are underway for the repatriation of the bodies to Ukraine.
"Today, the Interior Ministry's experts in Tehran received DNA profiles of the remains of all 11 perished Ukrainians. Preparations are being carried out for their further repatriation to Ukraine," the Ukrainian Interior Ministry reported on Thursday, January 16.
According to preliminary information, the repatriation of the bodies is scheduled for January 19, 2020.
The ministry added that two genetics experts from the Ukrainian Interior Ministry remained in Tehran until the process of identifying the bodies of the dead and returning to their families was completed.
Earlier, experts of the Interior Ministry of Ukraine and investigators of the National Police collected DNA samples of relatives of the dead.
As reported, a Ukraine International Airlines plane (flight PS752), en route from Tehran to Kyiv, crashed shortly after take-off from Tehran Imam Khomeini International Airport at about 06:00 Tehran time (04:30 Kyiv time) on Wednesday, January 8.
There were 176 people on board the aircraft. All of them died. The crash killed 11 Ukrainians (two passengers and all nine crew), 82 Iranians, 63 Canadians, ten Swedes, four Afghans, three Germans, and three Britons.
On January 11, Iran admitted that its military had accidentally shot down a Ukrainian passenger jet.
Iran's Islamic Revolutionary Guard Corps (IRGC) accepted full responsibility for the downing of a Ukrainian airliner.
ish