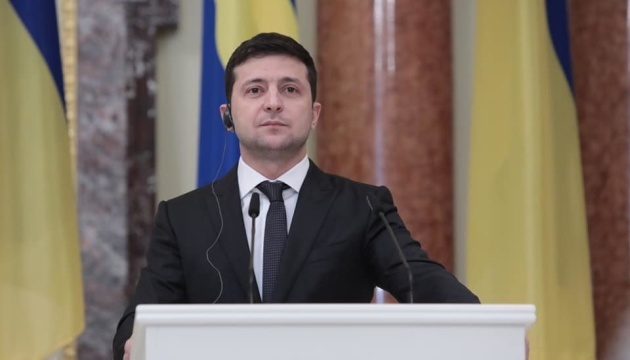 Zelensky: Bodies of Ukrainians killed in UIA plane crash should be returned next week
The bodies of those killed in the UIA plane crash in Tehran should be returned to Ukraine before January 19, and the investigation into the crash should continue without any delay and obstruction.
"It is extremely important for us to return the bodies of the deceased to Ukraine next week - by January 19 - so that their relatives could pay last respects," President of Ukraine Volodymyr Zelensky said in a phone conversation with President of the Islamic Republic of Iran Hassan Rouhani.
The President of Ukraine stressed that the crew of the downed plane had acted in strict accordance with international flight rules and instructions.
"Recognizing the "missile version" as the cause of the crash paved the way for its further investigation without any delay and obstruction. I look forward to further constructive cooperation with Iran in accordance with international law," Volodymyr Zelensky said.
Hassan Rouhani expressed condolences to the Ukrainian people and the families of those killed as a result of shooting down PS752 flight of Ukraine International Airlines. He apologized on behalf of the Iranian side for the tragedy that took 176 lives.
The President of the Islamic Republic of Iran fully acknowledges that the tragedy was caused by the erroneous actions of the military of this state.
Official Tehran assured that everyone involved in the disaster would be held accountable, and the Ukrainian expert group would be provided with all the necessary support for the further effective cooperation in the legal and technical fields.
Hassan Rouhani assured that he would give appropriate instructions tonight to ensure the repatriation of the bodies as soon as possible.
As reported, Ukraine International Airlines plane (Flight PS752) heading from Tehran to Kyiv crashed shortly after taking off from the Imam Khomeini International Airport at about 06:00 Tehran time (04:30 Kyiv time) on Wednesday, January 8.
There were 176 people on board - 167 passengers (including two Ukrainians) and nine crew members (all Ukrainians). There were 82 citizens of Iran, 63 citizens of Canada, ten citizens of Sweden, four citizens of Afghanistan, three citizens of Germany, and three citizens of the UK.
Previously, it was claimed that the crash had been caused by technical problems. Early today, Iran announced that it had shot down the UIA passenger plane accidentally. The plane was perceived as a hostile object as it approached Iran's sensitive military base after take-off.
Iran's Islamic Revolutionary Guard Corps (IRGC) accepted full responsibility for the downing of a Ukrainian airliner.
ol