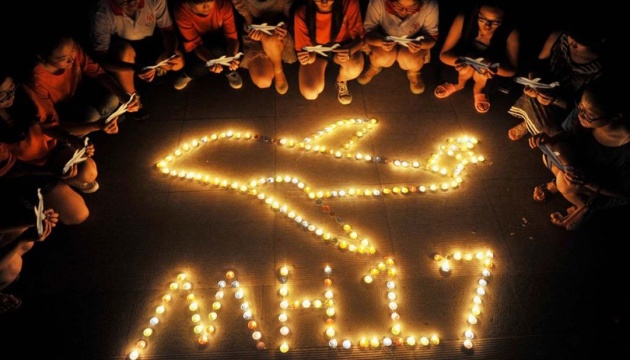 Ukraine to co-finance prosecution of MH17 perpetrators
Ukraine's Cabinet of Ministers has approved a draft intergovernmental memorandum on the financing of the prosecution of those guilty of the downing of Malaysia Airlines flight MH17, which took place in Donetsk region on July 17, 2014.
A respective resolution, No. 1083-r of December 27, 2018, has been published on the government website.
"By adopting the resolution, the government reaffirms its commitment to supporting the investigation with respect to persons suspected of shooting down flight MH17, in view of the international nature of the tragedy and in order to determine the damage done to all victims of the tragedy and to make the trial as accessible as possible to all close relatives of the victims," the explanatory note to the resolution says.
It notes that a financial supervision committee will be set up and will be composed of representatives of the governments of Australia, Belgium, Malaysia, the Netherlands and Ukraine and the governments of those states whose citizens were affected by the disaster and who made a financial contribution to the trial.
Ukraine's Ambassador to the Netherlands Vsevolod Chentsov was authorized to sign the memorandum from the Ukrainian side.
It was reported earlier that the Netherlands was considering appealing to an international court on MH17 after negotiations with the Kremlin had stalled.
Malaysia Airlines flight MH17, which was en route from Amsterdam to Kuala Lumpur, was shot down over Donbas in July 2014. There were 283 passengers and 15 crewmembers on board the plane. All of them died.
In September 2016, the Joint Investigation Team (JIT) said it had been established on the basis of irrefutable evidence that the plane had been shot down by a 9M38 Buk missile launched from the territory controlled by pro-Russian militants in the eastern part of Ukraine.
In addition, the JIT said on May 24 that the Buk missile system from which the aircraft was downed belongs to the 53rd Anti-Aircraft Missile Brigade of the Russian Armed Forces stationed in Kursk.