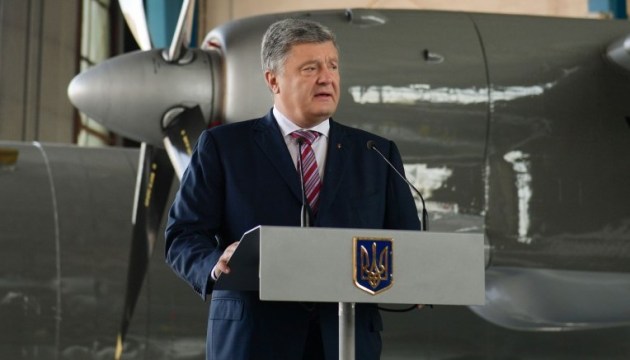 Poroshenko orders temporary ban on use of mortars following deadly explosion
Ukrainian President Petro Poroshenko has instructed Defense Minister Stepan Poltorak and Commander-in-Chief of the Ukrainian Armed Forces Viktor Muzhenko not to use mortars until the completion of the investigation into a mortar explosion that killed three Ukrainian servicemen and wounded nine more.
He stated this, while speaking at celebrations on the occasion of the 70th anniversary of the Civil Aviation Plant 410 in Kyiv on Friday, according to an Ukrinform correspondent.
"I am instructing Defense Minister, Ukrainian Army General Stepan Tymofiyovych Poltorak and Chief of the General Staff of Ukraine, Ukrainian Army General Viktor Muzhenko to urgently investigate the causes of the tragedy, and urgently report to me next week and take comprehensive measures so that this does not happen again," Poroshenko said.
He also ordered Poltorak and Muzhenko not to use mortars at drills until the completion of the investigation.
The president honored the servicemen killed in the accident with a minute of silence and wished a speedy recovery to those wounded.
"We have to do everything in order to protect the life of every Ukrainian soldier," he said.
As reported, three Ukrainian servicemen were killed and nine more wounded after a mortar blew up at the Rivne training area early on Friday.
op