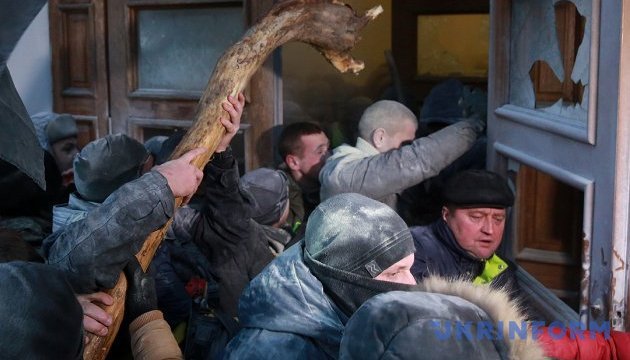 Sixty National Guard servicemen injured in Kyiv clashes
Sixty National Guard servicemen were injured in clashes near the Zhovtnevy Palace in Kyiv on December 17, and 15 of them were hospitalized, the Ukrainian National Guard's press service has reported.
"Sixty National Guard servicemen were injured in the clashes. Ambulance vehicles left for the scene. Forty-five of them continued to fulfill their official duties after getting the first medical aid, and 15 were hospitalized, including 13 poisoned with gas, one with a facial trauma, one with a head injury (a thunder-flash was thrown into his winter jacket's hood, but protection means and the helmet prevented more significant injuries)," reads the statement.
The press service said that previously announced mass events were held in the center of Kyiv on December 17. About 1,000 servicemen of the Ukrainian National Police and the Ukrainian National Guard were providing law and order.
The protesters were hurling fire crackers near the Zhovtnevy Palace. They tried to break inside the palace, clashed with the police, and damaged the building's door. There were about 800 spectators, including children, inside the building at the moment.
Law enforcement officers prevented activists from seizing the building, using fire extinguishers and tear gas. As a result, 32 law enforcers, including 15 National Guard servicemen and 17 police officers, were injured in the clashes.
Investigators opened three criminal proceedings due to the events near the Zhovtnevy Palace - under Articles 15, 341 (an attempt to seize state or public buildings or structures), Article 345 (threat or violence against an employee of a law enforcement agency) and Article 343 (intervention in the activities of a law enforcement officer) of the Criminal Code of Ukraine.
op