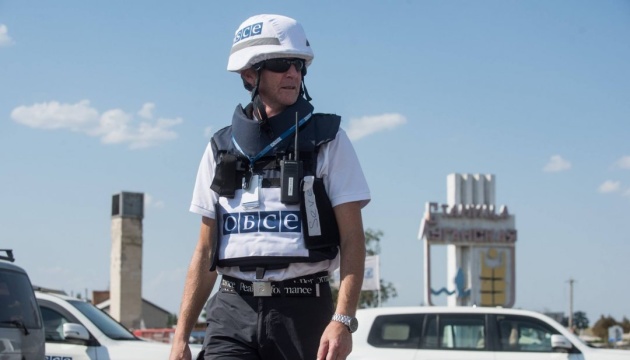 OSCE says militants restricted access in Shcherbak
Militants have restricted access for the observers of the OSCE Special Monitoring Mission (SMM) in the "DPR"-controlled village of Shcherbak in Donetsk region, according to a report published on the website of the organization.
"Three armed men in military-style clothing and with their faces covered had blocked a road junction about 1km east of 'DPR'-controlled Shcherbak (92km south of Donetsk) with a vehicle labeled 'police' in Cyrillic. They prevented the SMM from proceeding further south, citing special operations in the area," the mission reports.
Observers said that other civilian vehicles were also being denied passage towards south.
"A man in civilian clothes approached the SMM, introducing himself as 'head of police,' and said that since that was a 'pre-border area,' the SMM had to co-ordinate its movement with 'DPR.' Later the SMM was allowed to proceed south towards 'DPR'-controlled Novoazovsk (40km east of Mariupol) only upon escort," the report says.
The OSCE SMM informed the Joint Center for Control and Coordination about the incident.
op