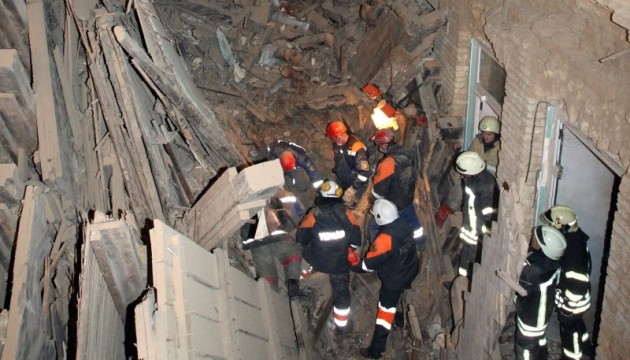 Four people may be trapped under debris from building in center of Kyiv
Under the debris from a five-storey building at 12-14 Bohdana Khmelnytskoho Street, where a ceiling in the building has collapsed, at least four people may be still trapped inside; one of them is still alive.
Director of the city department for rehabilitation and environment preservation at Kyiv City State Administration, Dmytro Bilotserkovets told an Ukrinform correspondent at the scene of accident.
"According to our information, four people are trapped under the debris," he said.
According Bilotserkovets, there were five construction workers in the building, one of them managed to come out, and four of his colleagues remained trapped in the building.
Bilotserkovets also informed that this non-residential building is in private ownership and is in a state of severe disrepair. But at the same time, according to the official, there are no signs for a further collapse of the building.
iy