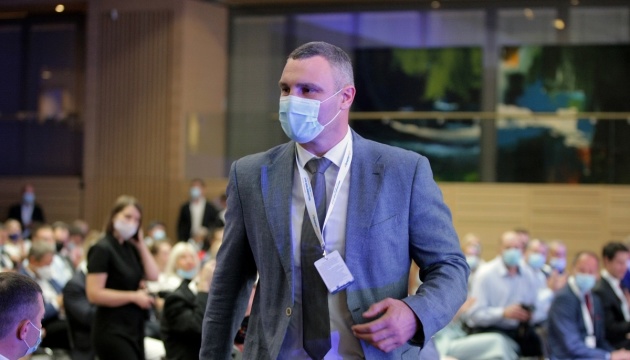 Klitschko thanks residents of Kyiv for support in mayoral election
Kyiv Mayor Vitali Klitschko has thanked residents of Kyiv for their support in the mayoral election, according to an Ukrinform correspondent.
Klitschko said this at a briefing on Wednesday, October 27, commenting on reports about his landslide victory in the first round of the election.
"As for the election, it is a great honor and a great responsibility for me. [...] Compared to [the past] five years, support [from residents of Kyiv] has increased by almost 10%. I take it as a great vote of confidence," Klitschko said.
According to Klitschko, more than 50% of the votes cast for him show that the Ukrainian capital is changing and moving in the right direction.
"I continue to work on transforming the capital, for the sake of our city. We face many challenges now: fighting the pandemic, protecting the health and lives of people, supporting vulnerable groups, supporting our economy in the context of the coronavirus, business support," Klitschko said.
According to a parallel vote count conducted by the UDAR party, incumbent Kyiv Mayor Vitali Klitschko wins the first round of elections, garnering 50.9% of the vote.
At the same time, the Kyiv city territorial election commission has not yet received protocols from district territorial election commissions, so it cannot yet determine the results of the Kyiv mayoral election.
Local elections took place in Ukraine on October 25. This year, Ukrainian citizens elected representatives to local government agencies: deputies of regional and district councils, as well as deputies of local councils and their heads in 1,439 communities.
op