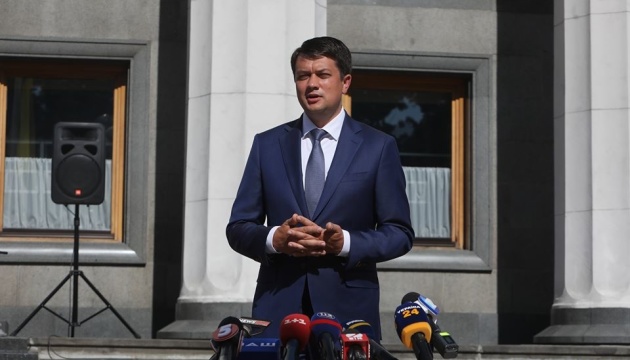 No legal grounds to postpone local elections in Ukraine - Razumkov
Verkhovna Rada Chairman Dmytro Razumkov has said he hopes that there will be no need to declare a state of emergency in Ukraine due to COVID-19, which could lead to the postponement of local elections in the country.
Razumkov stated this live on the 112 Ukraine television channel.
"In my opinion, it is impossible to postpone local elections because there are no legal grounds to change the time of the elections. The only exception may be a presidential decree [imposing a state of emergency] that is approved by the Verkhovna Rada. That is, the National Security and Defense Council submits such a proposal on the introduction of a state of emergency to the president for signature, and the Verkhovna Rada either approves or disapproves the holding of the elections. To date, no such initiatives have been received by the National Security and Defense Council, and there is no relevant decree. For these reasons, the Verkhovna Rada does not plan to hold meetings for now. We hope that there will be no grounds to move to such a situation," Razumkov said.
He recalled that the imposition of a state of emergency is possible only for 30 days, and then the parliament, if need be, should make a decision on its extension.
"I think that based on the conditions in which we work today, the elections should take place on October 25, 2020, as planned, because all processes have been launched," Razumkov said.
Regular local elections in Ukraine are scheduled for October 25.
op