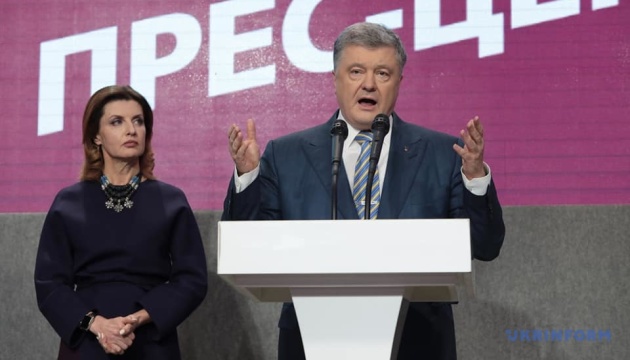 Poroshenko: 'I'm not quitting politics'
Incumbent Ukrainian President Petro Poroshenko has said he will leave his post but will remain in politics.
He said this at a press conference on Sunday after the announcement of the results of the National Exit Poll, according to an Ukrinform correspondent.
"I will greet my opponent. I will do it as is usually done in civilized democratic countries. From April 22, we need to unite and defend Ukraine, we need joint efforts. I will leave the post of head of state next month. The majority of Ukrainians have made such a decision, and I'm accepting this decision. I will leave the office but I want to firmly emphasize that I'm not quitting politics. I will remain in politics. I will continue to fight for Ukraine," Poroshenko said.
He noted that his team should protect the achievements that have been received over the past five years.
"We must defend European and Euro-Atlantic strategies: those principles, goals, frontiers which we have achieved over the past five years and which, unfortunately, are now under threat. Our team will defend the course for membership in the EU and NATO, because only in this strongest and most powerful security organization we can guarantee the security of Ukraine and the security of every Ukrainian citizen from Russia as an aggressor country," Poroshenko said.
He also added that his team would defend the visa-free regime with the EU.
"Some members of the Constitutional Court have reoriented themselves to a new government and plan to declare unconstitutional the electronic income declaration, which is a prerequisite for the visa-free regime," Poroshenko added.
According to the National Exit Poll, Zelensky wins 73.2% of the vote in the second round of presidential elections, whereas Poroshenko receives 25.3%.