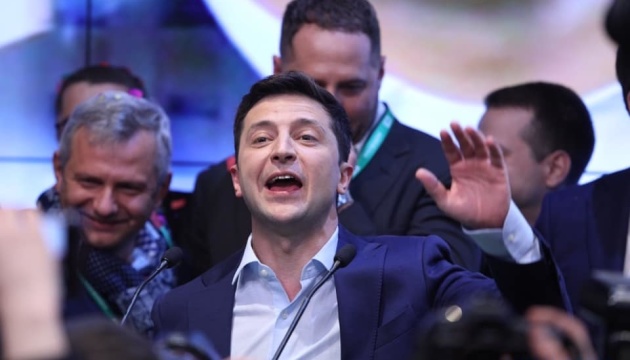 Zelensky wins 73.7% of vote, Poroshenko gets 26.3% - exit poll ordered by 112 Ukraine
Showman Volodymyr Zelensky wins 73.7% of the vote in the second round of Ukraine's presidential election, while incumbent Petro Poroshenko gets 26.3%, according to an exit poll ordered by the 112 Ukraine television channel.
The results of the exit poll as of 18:00 were released by the channel on Sunday.
According to the exit poll, support for Zelensky in the central regions of Ukraine is 72.3%, in the western regions - 56.4%, in the south - 86%, and in the east - 88%.
Support for Poroshenko in the central regions is 27.7%, in the west - 43.6%, in the south - 14%, and in the east - 12%.
The exit poll was conducted at 500 polling stations, except for the occupied Crimea and non-government controlled areas of Donetsk and Luhansk regions. Some 16,000 voters were interviewed. The margin of error is 1.7%.
The Central Election Commission should announce the results of the second round of the presidential election no later than May 1. The election results should be published in the Holos Ukrainy and Uriadovy Kurier newspaper by May 4.
The inauguration of the newly elected president of Ukraine should take place before June 3 at a solemn meeting of the Verkhovna Rada.
op