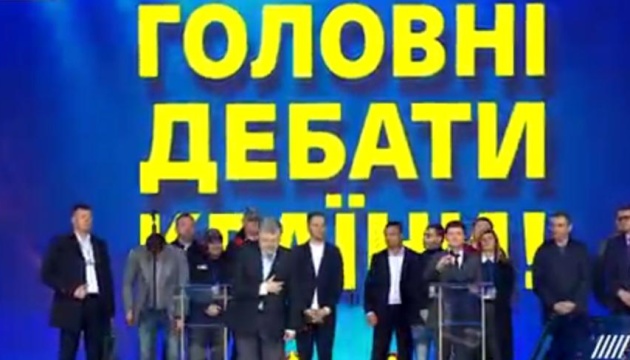 Zelensky says he voted for Poroshenko in 2014
Ukrainian presidential candidate Volodymyr Zelensky has confessed that in 2014, he cast his vote in the presidential election for Petro Poroshenko, but said he had made a mistake.
He said this during a presidential debate at the Olimpiyskiy Stadium in Kyiv on Friday, according to an Ukrinform correspondent.
"Could I imagine that I, an ordinary guy from Kryvyi Rih, will fight for the presidential post against a person whom we confidently and definitely elected the president of Ukraine in 2014? Most interestingly, I personally supported Mr. Poroshenko. That's true, but I made a mistake," Zelensky said.
He criticized Poroshenko's policy for five years of his work as president. "Could we then imagine that his [slogan] 'live in a new way' would turn into our 'survive'?" Zelensky said.
He also criticized Poroshenko for his unfulfilled promise to end the war within two weeks, for enriching his entourage, for the fact that "the Revolution of Dignity was used by scammers."
The debate is also to be held on public television on Friday. At the same time, Zelensky declined to participate in this debate. The second round of the presidential elections will be held on April 21.