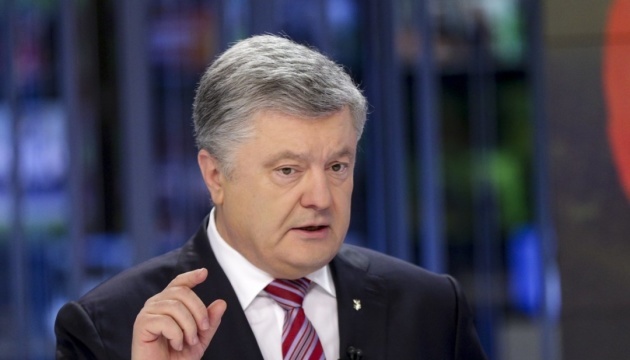 Poroshenko: I have grounds to win elections and I know what reforms I will carry out
Petro Poroshenko intends to win the presidential elections and implement all the reforms planned by him.
"I believe that I have all the grounds to win the elections. I can reveal what I will do during my cadence. To date, the Constitution clearly requires that the President, the Verkhovna Rada, and the Government of Ukraine do everything possible to implement the necessary reforms that would harmonize our legislation with the European one. And I clearly know in which sectors this should be done. I have already reached an agreement with the European Commission on a cooperation program," Poroshenko said on the Pulse talk show in the air of 112 TV channel, an Ukrinform correspondent reports.
First, the President called the energy sector, where he intends to find a compromise, including concerning the Nord Stream 2.
"It is another risk and threat. If we now start everything from scratch or act with regard to Russian interests, this will entail extremely destructive consequences for the Ukrainian energy industry. Over the past five years, we won a lawsuit, won $4.6 billion, and more than 2 billion have already been transferred to Ukraine. We must ensure the energy independence of our state," the President stressed.
The next sector, he said, is the digital single market.
"For an ordinary citizen, it means that those, who travel to the EU under the visa-free regime, have the same tariffs and do not overpay for roaming. But in reality, it is the digital management, the IT sector development so that Ukraine could become a full-fledged part of digital Europe," the President said.
"The third point is the continuation of work on the Schengen Area so that, taking into account the reform of the Customs Service, we could reduce the cost of shipping goods to the EU and simplify procedures. The fourth position - I have a clear task and I know how to perform it - we signed the bankruptcy law, which let Ukraine climb 12 spots in the Doing Business rating. We will enter the top-50 countries with the greatest investment attractiveness. After all, nothing will happen without the inflow of the foreign direct investment," Petro Poroshenko said.
He expressed the conviction that Parliament would vote in favour of the law on exit capital tax: "This means that if you invest, you don't pay a penny, and if you withdraw, you pay tax or exit capital tax. The first steps will be to ensure that no law enforcement agencies could approach and inspect the business as the National Financial Security Service will be launched where analysts work and where everything is transparent via the electronic control."
Summing up, Petro Poroshenko said: "The main thing is not to lose momentum so that we are not turned back. The main thing is not to make a mistake on April 21 [election day], when all power in Ukraine is given directly to every Ukrainian citizen."
ol