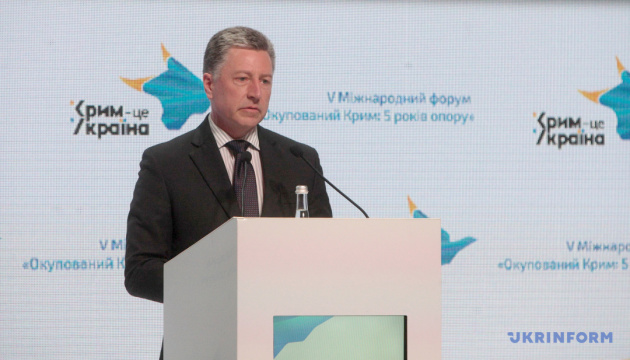 Volker: Elections in Ukraine similar to elections in France and US
Elections in Ukraine are similar to elections earlier held in France and the United States.
"What we have now is an election in Ukraine similar to elections that we have seen in France or with the case of Brexit or even in the United States. It's a candidate who has established himself as against the establishment vs. the incumbent president, who is saying that, you know, I have worked hard, I have made a lot of accomplishments, we have more to do," United States Special Representative for Ukraine Negotiations Kurt Volker said in an interview with PBS.
According to him, Ukrainian society is faced with a choice between two different candidates.
"And now the Ukrainian public is faced with this choice. Do they want someone who is just going against the establishment, promising massive reform? Or do they want someone who maybe has been disappointing to them in some respects, but has done more on reform than anyone else has in Ukraine for the past 20 years and stood up to Putin?" Volker added.
He called the ongoing election in Ukraine a truly democratic election.
"And what's great about this [elections in Ukraine] is, this is a truly democratic election. We don't know how this is going to come out," the diplomat underscored.
Volker also noted that Russian president Vladimir Putin would continue to test whoever is the president of Ukraine.
"I think we can assume, based on Russia's behavior up to now, that they will continue to test whoever is the president of Ukraine," the US Special Representative said.
He recalled that Moscow used all kinds of propaganda, channels like Russia Today and Sputnik, cyber-attacks to influence Ukraine.
The U.S. diplomat also expressed the conviction that Russia would not have an impact on the elections.
"It's very hard to mess with people's own sense of their own interests. And I'm not sure they had an impact in the first round. I'm not sure they will have an impact in the second round," Volker said.
As reported, the first round of the presidential elections in Ukraine was held on March 31. After the Central Commission of Ukraine counted 100% of ballots, it became known that showman Volodymyr Zelensky and incumbent president Petro Poroshenko made it to the runoff.
ol