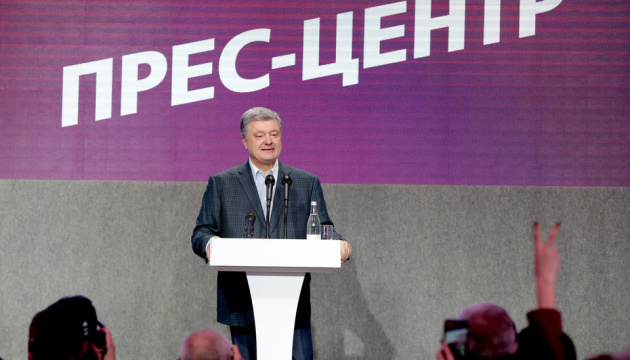 Poroshenko ready for debate with Zelensky at stadium
President Petro Poroshenko has made a video address to Ukrainian presidential contender Volodymyr Zelensky regarding the latter's invitation to hold a presidential debate at the Olimpiyskiy National Sports Complex in Kyiv.
The video was posted on the Facebook page of the head of state in the early hours of Thursday, April 4.
"The election campaign is an event that determines the future of the country and the nation for years and decades," Poroshenko said.
He also emphasized that the debate is not a show taking place at the stadium.
"The debate is a serious discussion about the country's development strategy, about values, about the historical vector, about priorities," Poroshenko added.
"The rules of the debate are stipulated in the law on presidential elections. Read them, please. It can be held on public television and broadcast on all television channels for tens of millions of people. These are the already established rules," he said.
"But if it's the stadium, let it be the stadium. I'm waiting for you, Volodymyr Oleksandrovych," Poroshenko said.
As was reported earlier, Zelensky invited Poroshenko to a debate before the second round of presidential elections scheduled for April 21 and gave him 24 hours to decide. Zelensky stressed that the debate should take place at the Olimpiyskiy Stadium in Kyiv, in the presence of all interested journalists and television channels.
According to Article 62 of the law on presidential elections, a televised debate is held live on the last Friday before the day of the run-off vote between 19:00 and 22:00 and lasts at least 60 minutes.
op