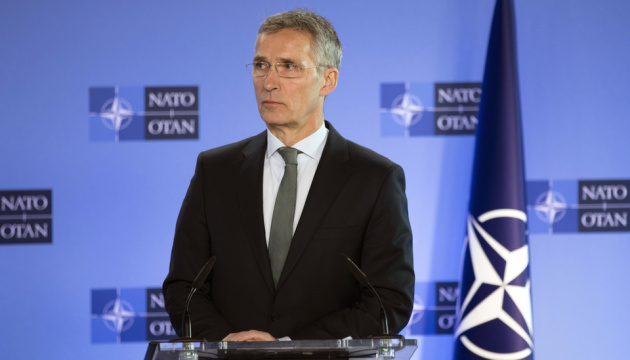 NATO not to comment on elections in Ukraine until second round - Stoltenberg
Elections are a normal democratic procedure for NATO and for all allies, but it will be possible to comment on presidential elections in Ukraine after they are over, that is, after the second round vote.
NATO Secretary General Jens Stoltenberg said this at a press conference in Brussels on Monday, according to an Ukrinform correspondent.
"The elections [in Ukraine] are ongoing. Therefore, I think it will not be appropriate if I started to comment on the outcome of those elections as there will be a second round. NATO and our partners have elections almost all the time, and that's part of being a democracy. I think it's important that those elections are conducted in a way which is fair and free. Then I think we should wait to comment on the outcome that we see and on the outcome of the final round," he said.
He did not say directly whether a NATO-Ukraine meeting is to be held as part of the NATO summit in London this December to mark the 70th anniversary of the founding of the Alliance.
"When it comes to the meeting in December, that's a short meeting. It's not a full-fledged summit. It will be a leaders' meeting. [...] We will meet in London to mark the 70th anniversary of the Alliance. We meet in London because London was the place where we had NATO's headquarters at the beginning," Stoltenberg said.
While commenting on the development of relations with Ukraine, he noted that NATO allies recognize the Euro-Atlantic aspirations of Ukraine, which is why they are helping Ukraine implement reforms and develop the security and defense sector. According to him, Ukraine should focus on continuing reforms, improving security agencies and democratic institutions, including the fight against corruption.
The first round of presidential elections in Ukraine was held on March 31. According to the Central Election Commission, the turnout was 63.48%.
According to the national exit poll, showman Volodymyr Zelensky is the front runner with 30.6% of the vote, incumbent President Petro Poroshenko is second with 17.8%, and Batkivshchyna Party leader Yulia Tymoshenko is third with 14.2%.
With 80.2% of ballots counted, Zelensky and Poroshenko reach the second round of presidential elections.
op