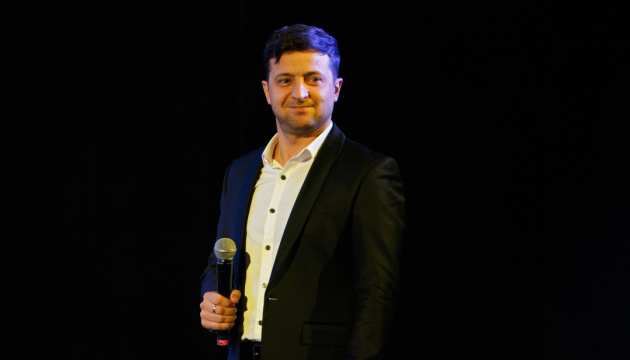 Zelensky, Tymoshenko, Poroshenko lead presidential rating
Comedian Volodymyr Zelensky leads Ukraine's presidential candidate rating, followed by Batkivshchyna Party leader Yulia Tymoshenko and incumbent President Petro Poroshenko, according to a survey conducted by the Rating Sociological Group in early March.
"The leader of the presidential rating is Zelensky, who is supported by 24.7% of those who have already made the decision and intend to vote. The second position is held by Tymoshenko (18.3%), and Poroshenko (16.8%) is third," reads a statement posted on the group's website.
It also notes that 10.3% of respondents are ready to vote for Civil Position Party leader Anatoliy Hrytsenko, 9.9% for Opposition Bloc leader Yuriy Boiko, 5.7% for Radical Party leader Oleh Liashko, 3.3% for former SBU Chief Oleh Smeshko, 2.7% for Oleksandr Vilkul, and 2.7% for Yevheniy Murayev.
The report also says that Hrytsenko and Tymoshenko strengthened their positions over the past week.
According to sociologists, almost a quarter of respondents have not decided yet on who to vote for. "It is important that the highest number of such people is among the poorest voters, who are usually most active in the elections, respondents of the older and middle age, as well as among women in the center and west of the country," the report reads.
According to the report, Zelensky is the leader of sympathy among respondents who will vote for the first time (almost one in ten people supporting the candidate), as well as among respondents who do not often vote in elections.
Among the respondents who always vote, Zelensky shares the leading positions with Tymoshenko and Poroshenko. Hrytsenko and Boiko also have relatively better positions in this category.
According to the poll, 22% of respondents believe that Poroshenko will be the next president, while 20% believe in the victory of Tymoshenko and 18% in the victory of Zelensky.
According to the report, Zelensky (43%) enjoys the highest level of confidence among presidential candidates, followed by Tymoshenko (28%), Hrytsenko (26%), and Poroshenko (24%).
The survey was conducted by the Rating Sociological Group during March 1-7, 2019. A total of 5,000 respondents aged over 18 were interviewed. The poll's margin of error does not exceed 1.5%.
op