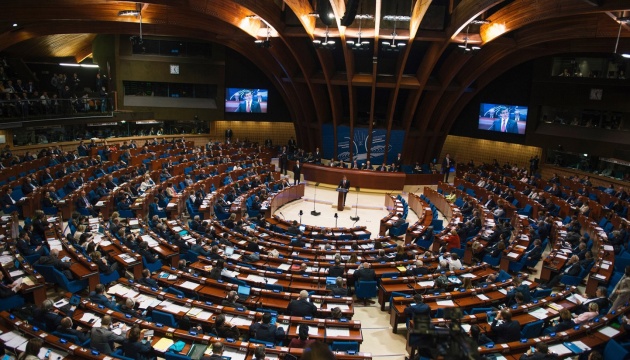 PACE: Environment in Ukraine is appropriate for holding democratic elections
The delegation of the Parliamentary Assembly of the Council of Europe considers that the environment in Ukraine is appropriate for holding democratic presidential election, however there is still "room for improvement."
This is underscored in the statement of the delegation of the Parliamentary Assembly of the Council of Europe (PACE) that visited Kyiv on 6 and 7 March to assess the pre-electoral climate ahead of the presidential election in Ukraine, scheduled for 31 March, an Ukrinform correspondent reports.
"The delegation, led by Angela Smith (United Kingdom, SOC), felt that the general environment was appropriate for holding of democratic elections. However, following discussions with various interlocutors, it considered it necessary to stress that there was still room for improvement and that the period of time left until election day should allow for some progress to be made," reads the statement.
The delegation also felt that the Central Election Committee (CEC) acted professionally and was preparing the election well.
However, the unprecedentedly large number of presidential candidates and domestic observers might impede the smooth conduct of polling and raise a challenge on election day.
PACE also expressed regret that freedom of speech in Ukraine was limited by the fact that the media, being mainly owned by oligarchs, instead of presenting the pre-electoral environment in a balanced manner, tend to function as public relation channels for individual candidates.
"The delegation welcomed the active role played by civil society during the pre-election period. However, it expressed concern that a number of NGOs seem to be affiliated to parties and/or candidates," the statement reads.
The PACE delegates informed that they had heard allegations about the misuse of administrative resources during the election campaign and underlined the need for complete transparency concerning the campaign financing of all candidates.
"It was also very concerned to hear allegations of intensive efforts on the part of some candidates to establish vote-buying systems," the statement says.
The delegation also noted with regret the low number of women candidates.
The delegation acknowledged the "efforts made by the Ukrainian authorities to have a genuine election process and urged them to continue to operate in accordance with European standards and best practices."
As noted, a 33-member delegation from the Parliamentary Assembly of the Council of Europe will arrive in Ukraine prior to the presidential election to observe the vote.
ol