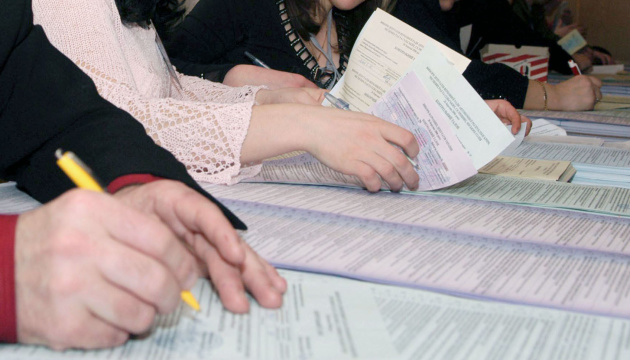 CEC registers 136 official observers
Ukraine's Central Election Commission (CEC) has registered another 27 official observers from international organizations for the presidential election scheduled for March 31.
Respective decisions were made at a CEC meeting on Tuesday, February 12, an Ukrinform correspondent reported.
The CEC registered 18 official observers from the Ukrainian Congress Committee of America and nine observers from the European Network of Election Monitoring Organizations (ENEMO).
Thus, as of February 12, the CEC registered 136 official observers from international organizations and a foreign state (Germany).
The presidential election process began in Ukraine on December 31, 2018. The registration of candidates for the presidency lasted until February 8.
The CEC registered 44 candidates for the post of head of state, in particular, Ihor Shevchenko, Serhiy Kaplin, Valentyn Nalyvaichenko, Vitaliy Skotsyk, Andriy Sadovy, Vitaliy Kupriy, Yevheniy Murayev, Anatoliy Hrytsenko, Hennadiy Balashov, Olha Bogomolets, Oleksandr Shevchenko, Roman Nasirov, Yuriy Boiko, Oleh Liashko, Arkadiy Kornatsky, Oleksandr Vilkul, Yulia Tymoshenko, Dmytro Dobrodomov, Oleksandr Moroz, Illia Kyva, Ruslan Koshulynsky, Oleksandr Danyliuk, Serhiy Taruta, Volodymyr Zelensky, Ihor Smeshko, Inna Bohoslovska, Yuriy Derevianko, Mykola Habera, Roman Bezsmertny, Viktor Bondar, Viktor Kryvenko, Serhiy Kryvonos, Serhiy Nosenko, Ruslan Ryhovanov, Yuriy Tymoshenko, Vasyl Zhuravliov, Andriy Novak, Petro Poroshenko, Yuriy Karmazin, Yulia Lytvynenko, Oleksandr Vashchenko, Volodymyr Petrov, Oleksandr Soloviov, and Dmytro Hnap.