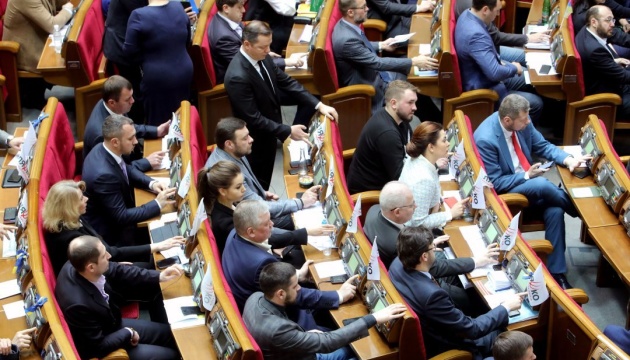 Parliament appoints 14 new Central Election Commission members
The Verkhovna Rada, Ukraine's parliament, has appointed 14 new members of the Central Election Commission (CEC), an Ukrinform correspondent reports.
The new CEC members are Alla Basalayeva (a candidate from the Vidrodzhennia group), Natalia Bernatska (People's Front), Mykhailo Verbensky (the Bloc of Petro Poroshenko), Andriy Yevstihneyev (Batkivshchyna), Iryna Yefremova (People's Front), Olha Zheltova (BPP), Oleh Konopolsky (BPP), Svitlana Kustova (BPP), Olha Lotiuk (BPP), Vitaliy Plukar (BPP), Yevhen Radchenko (Samopomich), Tetiana Slipochuk (Will of the People), Leontiy Shypilov (People's Front), and Tetiana Yuzkova (Radical Party).
According to Iryna Lutsenko, the president's representative in the Verkhovna Rada, the main principle the head of state was guided by during consultations on candidates for the posts of CEC members was the complete renewal of the commission.
"Therefore, among the nominees there are no people who worked in the previous convocation of the Central Election Commission. This is the president's response to the request of the society," Lutsenko said, specifying that all new members are professional lawyers.
Thus, the parliament filled all vacant posts after the dismissal of CEC members whose term of office had expired.
Thus, the CEC includes candidates from all parliamentary factions, except for the Opposition Bloc.
Taking into account the approved law on the expansion of the CEC from 15 to 17 members, one place remains vacant.
The Verkhovna Rada appoints and dismisses CEC members on the proposal of the president.
Earlier on September 20, the parliament dismissed 13 CEC members whose term of office had expired. At the same time, two members of the commission, whose term of office will expire in 2021, retained their positions.
op