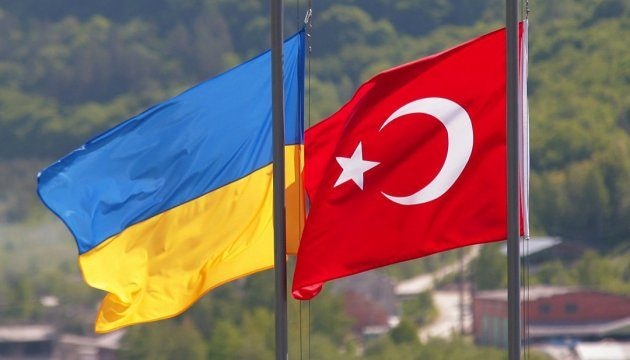 Ukraine–Turkey FTA: Foreign Ministry tells about progress of talks
Agricultural and metal products are the most debatable issues in the talks on signing the free trade agreement between Ukraine and Turkey.
"Why do the talks last so long? The deal itself was agreed upon 12 years ago. The text of the agreement has been written out. The problem is the amendments to it and the tariffs that will be applied to each of the groups of goods," Deputy Minister of Foreign Affairs of Ukraine, Ambassador of Ukraine to Turkey Vasyl Bodnar said in the program "Informal Conversation" on Dom TV channel, Ukrinform reports.
According to Bodnar, each of the parties fiercely defends its interests during the talks.
"Both Ukraine and Turkey are large producers of agricultural and industrial goods, primarily, metal products. These are the two largest groups of goods that provoke such lengthy, to put it mildly, consultations. The problem is the balance between the impact on domestic and benefits from future trade. It needs to be achieved," Bodnar explained.
He noted that Ukraine has a liberalized market, open to any group of goods.
"The Turkish market is quite closed. Especially with regard to the agricultural group of goods. There are, of course, large producers who are not ready to let cheaper Ukrainian goods enter this market. At the same time, we know that Turkish tomatoes feel quite comfortable in Ukraine. We need to protect domestic producer who also has the right to sell the same tomatoes or wheat, or sunflower oil there. This is actually a large scope [of goods] which is somehow seen as a threat to the domestic market of Turkey," the Ambassador continued.
The Ukrainian side has concerns about the light industry.
"Turkey has a well-developed textile industry. Our industry is just rising. If we do not balance these interests now, our industry may not uprise because the prices offered by Turkish producers can bury it right away," Bodnar said.
The deputy minister said that there are "quite a lot" of such nuances.
"We should not just sign some document, we should reach the agreement that would stimulate trade," he said.
According to him, it is difficult for Ukrainian producers to enter the markets of Turkey.
"The internal regulation of the Turkish market simply does not allow for free competition. When it comes to [import] tariffs – 180% for wheat or 120% for meat – how can you compete? Or, for example, our alcohol. It's impossible to simply enter that market as it is very protected," Bodnar said.
The Ambassador supposes that at some stage Ukraine will have to defend the interests of its producers in the domestic market with similar rigidity.
As reported, in June Foreign Minister Dmytro Kuleba stated that Ukraine and Turkey had to take the last step before concluding the free trade agreement, which is the most important and sensitive one. Such a step requires a compromise on both sides.
ol