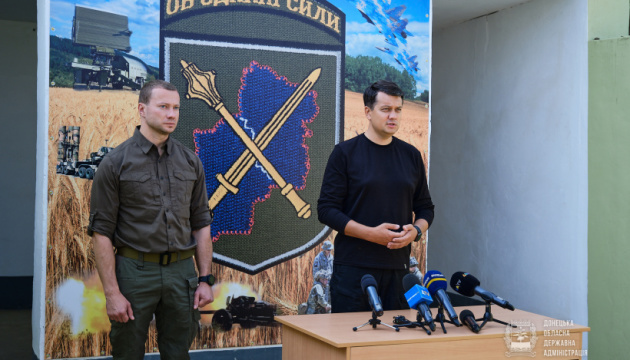 Razumkov hopes parliament will adopt balanced draft state budget for 2022
Verkhovna Rada Chairman Dmytro Razumkov has said he hopes that the parliament will adopt a balanced draft state budget for 2022, taking into account all possible challenges that await Ukraine next year.
The parliament speaker said this at a briefing held as part of his working trip to the area of the Joint Forces Operation on Monday, August 30, according to an Ukrinform correspondent.
"I hope that we will see a balanced budget, taking into account all the challenges that will arise next year. This is the war, support for the Ukrainian army, the state defense order, infrastructure projects, and COVID-19, unfortunately, it is not going anywhere. We see negative dynamics. The situation is still completely under control, but we need to be ready for everything," Razumkov said.
He also noted that MPs would start working on the country's draft state budget for 2022 as soon as the Cabinet of Ministers submits it to the Verkhovna Rada, i.e. after September 15. He expressed confidence that the Verkhovna Rada would observe all deadlines set for the adoption of the relevant draft.
"All committees are ready for this, because a specific committee will work in each direction. Indeed, the greatest burden awaits the Verkhovna Rada committee on budget, but its members are ready for this process," Razumkov said.
In accordance with Article 37 of the Budget Code of Ukraine, the government approves the bill on Ukraine's state budget and submits it together with the relevant materials to the Verkhovna Rada and the president no later than September 15.
The parliament's sixth session will begin on September 7, 2021 and end on January 21, 2022.
op