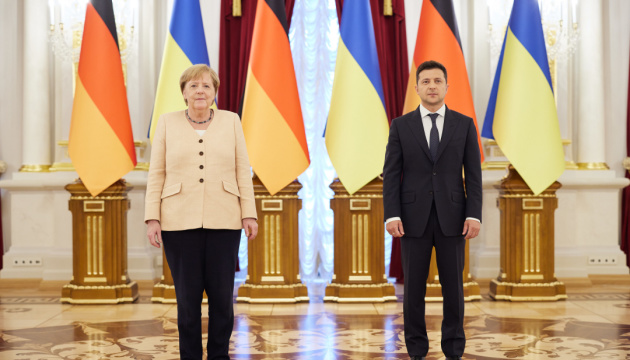 Zelensky announces talks between Ukraine, US, Germany energy ministers
President of Ukraine Volodymyr Zelensky discussed the continuation of gas transit through Ukraine after 2024 with German Chancellor Angela Merkel.
Negotiations between the energy ministers of Ukraine, the United States, and Germany will take place on Monday, the Head of State said during a joint press conference with the Chancellor, an Ukrinform correspondent reports.
"We discussed the extension of the agreement on gas transit through the territory of Ukraine after 2024 with Chancellor Merkel. So far, I think these are very common things. Tomorrow, a really important meeting will be held. The energy ministers of the United States, Ukraine, and Germany will meet. Perhaps, more specific things will emerge," Zelensky noted.
As noted, Zelensky and Merkel also discussed Ukraine's transition to green energy. However, this step requires "too much money and time," the President of Ukraine noted.
"Therefore, I want to understand what Ukraine will gain, what our state may lose after the agreement expires in 2024, and who gives Ukraine specific guarantees," the President stressed.
As reported, German Chancellor Angela Merkel makes a visit to Ukraine on August 22.
In July, the United States and Germany reached an agreement to settle a dispute over the construction of the Nord Stream 2 gas pipeline. The agreement stipulates that Washington renounces its intention to impose sanctions on participants in the Nord Stream 2 project, while the possibility of EU sanctions on Moscow remains if Russia uses the pipeline as an instrument of energy pressure. The agreement also states the intention to maintain gas transit through Ukraine. Germany promised to use all the levers to persuade Russia to extend the agreement on gas transit through Ukraine, which expires at the end of 2024.
Nord Stream 2 is a Russian gas pipeline built bypassing Ukraine. It is laid through the Baltic Sea from Russia to Germany. The sole shareholder of the project is PJSC Gazprom.
Photo credit: President's Office
ol