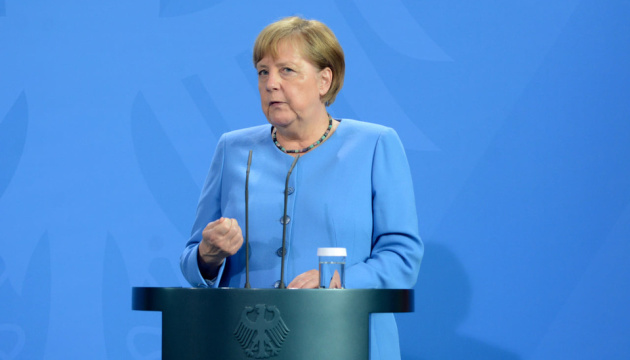 Merkel sees U.S.-Germany deal on Nord Stream 2 as good for Ukraine
German Chancellor Angela Merkel has said she is sure that the gas transit contract for Ukraine will be extended after 2024, and that the Berlin-Washington deal on the Nord Stream 2 gas pipeline is good for Ukraine.
She said this at a summer press conference on July 22, according to an Ukrinform correspondent.
"I am pleased that we have succeeded at this stage," Merkel said, commenting on the Germany-U.S. agreement on Nord Stream 2.
According to her, there are currently several tasks, including how to get the gas transit contract signed for Ukraine for a longer period, how to help and support Ukraine in the process of energy supply transformation, and how to connect Ukraine to the European gas system through reverse flows.
Merkel said she was confident that it would be possible to extend the contract for gas transit through Ukraine in 2024. She recalled how difficult the negotiation process was in 2019, but it ended with the signing of the document. "I proceed from the fact that the next [contract] will also be concluded," she said, adding that her successor would take care of this issue.
When asked whether Moscow's refusal to extend the transit contract would be a sufficient condition for imposing sanctions, as agreed by Germany and the United States, Merkel declined to answer, saying it was a "purely hypothetical" question.
Merkel said she did not consider Russia to be a more important partner for Germany than Ukraine and Poland. "Not at all. It is not a question of finding compromise ways for a project on which there are different political assessments of different countries, "she said, adding that the agreement reaffirms support for Ukraine and well-defined focuses. "From my point of view, in this aspect, this joint declaration is also good for Ukraine," Merkel added.
The politician acknowledged that the agreement with the U.S. government does not "cement" differences and does not overcome them all. "This is a good step, which also required the readiness for compromise from both sides. On the other hand, not all differences have been overcome. […] Differences remain, and we saw it yesterday in terms of reactions," she said. The chancellor called the agreement an attempt to determine certain conditions that must be met. According to her, it is very important to ensure that Ukraine remains a transit country for natural gas, "that energy should not be used with a view to putting Ukraine in a difficult situation."
Among the tools of influence, Merkel mentioned various arrangements, the EU's third energy package, etc. "Of course, we have opportunities that I would not like to use, but we can always introduce them in connection with Crimea or Donetsk and Luhansk - sanctions," Merkel said. She added that "the Russian side has promised not to use gas as a weapon."
Speaking about the negative reaction from U.S. Congress, Merkel stressed that the text of the U.S.-Germany deal on Nord Stream 2 had been agreed with the U.S. government, whereas U.S. Congress is an independent institution. "My agreements with other countries also do not automatically lead to all Bundestag deputies saying that it is good," she said.
The United States and Germany on July 21 issued a joint statement outlining their position on the completion of the Nord Stream 2 gas pipeline and the steps that could be taken if Russia uses gas as a weapon, as well as steps to support Ukraine's green energy development. The document has already caused a lot of criticism, including from Ukraine.
op