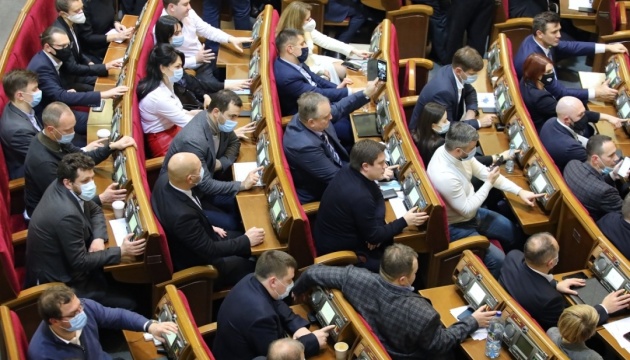 Parliament approves Budget Declaration for 2022-2024
The Verkhovna Rada of Ukraine has supported the Budget Declaration for 2022-2024 and provided recommendations on the budget policy of Ukraine.
A total of 269 MPs voted for relevant resolution No.5765 at a parliament's meeting on Thursday, an Ukrinform correspondent reports.
Representing the three-year Budget Declaration, Finance Minister Serhiy Marchenko stressed that the Budget Declaration for 2022-2024 will create a qualitative basis for improving the efficiency of public spending and predictability of public policy.
Thus, Ukraine's nominal gross domestic product is expected to grow from UAH 4.8 trillion in 2021 to UAH 6.65 trillion in 2024. Instead, the unemployment rate will fall from 9.2% to 7.8%. The exchange rate of the hryvnia against the U.S. dollar is projected at UAH 28.6 in 2022, UAH 28.8 in 2023, and UAH 29.2 in 2024. The minimum wage will grow to UAH 6,500 from January 1, 2022, UAH 6,700 from October 1, 2022, UAH 7,176 from January 1, 2023, and UAH 7,665 from January 1, 2024.
The budget policy priorities defined by the Budget Declaration are the following: strengthening the defense and security of the state; developing agro-industrial complex; forming clean and safe environment; developing administrative services and their digitalization; strengthening energy independence; creating an effective and comprehensive system of social support and pension provision; ensuring quality, modern, accessible and inclusive education; ensuring a quality level of healthcare.
As reported, on May 31, 2021, the Cabinet of Ministers at its extraordinary meeting approved a three-year Budget Declaration for the first time. The document contains general indicators of revenues and financing of the state budget, general limits of state budget expenditures, size of minimum wage, subsistence level, and other public policy objectives.
iy