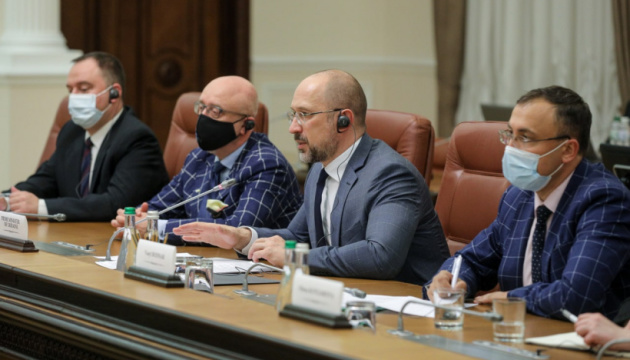 Ukraine interested in expanding cooperation with Germany in energy sector – Shmyhal
Ukraine is interested in expanding cooperation with Germany in the energy sector, Prime Minister Denys Shmyhal has said.
He said this at a meeting with representatives of the German government, Ukrinform reports with reference to the Government portal.
"We have already made significant work in this area. In August last year, Ukraine and Germany signed a joint statement on establishing an Energy Partnership. It provides for in-depth cooperation in the areas of renewable energy, energy efficiency, decarbonisation and climate change, hydrogen economy, and transformation of coal regions," Shmyhal said.
The prime minister also stressed that Ukraine's priority goal in the energy sector is to join ENTSO-E. According to him, the synchronization of the Ukrainian energy system with the European network in 2023 is a vital step for Ukraine, which the government is currently actively working on.
According to Shmyhal, Ukraine has 61 coal regions that depend on mono-enterprises. He thanked Germany for its assistance in promoting a fair transformation of coal regions in Ukraine.
"This year we are launching two pilot projects in mines. This reform will help create new jobs and promote decarbonisation. Ukraine firmly adheres to the principles of the European Green Deal," the head of government stressed.
The PM emphasized the importance of Germany's support in counteracting Russian aggression and the German side's involvement in the Crimean Platform initiative.
In addition, Shmyhal noted that Germany ranks first among Ukraine's trade partners in the EU. He added that Ukraine seeks to further use the common potential to expand cooperation and strengthen bilateral relations.
As reported, ENTSO-E, the European Network of Transmission System Operators for Electricity, represents 42 electricity transmission system operators (TSOs) from 35 countries across Europe. ENTSO-E was established and given legal mandates by the EU's Third Legislative Package for the Internal Energy Market in 2009, which aims at further liberalising the gas and electricity markets in the EU.
In 2017, a memorandum was signed providing for the synchronization of the unified power system of Ukraine with ENTSO-E in 2023.
ish