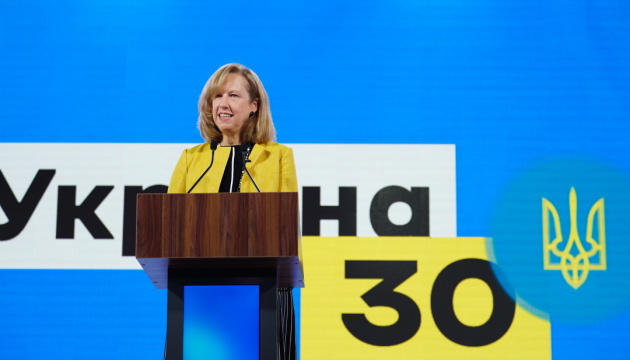 Kvien: Ukraine needs to consolidate success of land reform
Chargé d'Affaires of the United States in Ukraine Kristina Kvien considers the land reform in Ukraine to be quite successful, but some steps are needed to consolidate it.
"I would add that the work done was very important, very difficult, and quite successful in general. Now a few more steps need to be taken to cross the finish line this summer," Kvien said at the Forum "Ukraine 30. Land", an Ukrinform correspondent reports.
According to her, the laws passed by the Verkhovna Rada last year were a real impetus to the adoption of market principles by giving owners the flexibility to use their property. The diplomat called the laws themselves the basis for a more transparent, competitive system of land relations which will lead to new opportunities and greater prosperity for Ukrainians.
At the same time, the Chargé d'Affaires drew attention to the steps that Ukraine needs to take to consolidate the reform.
"Much remains to be done to consolidate this success of land reform. The bill, which guarantees partial loan guarantees for small farmers, is still pending. This law will guarantee that every Ukrainian will be able to participate in farming," the diplomat emphasized.
Kvien also stressed the importance of implementing anti-corruption safeguards.
"As we rapidly approach the opening of the land market, further management [of the land reform process] by all actors, including the international community, is crucial," she said.
The U.S. Chargé d'Affaires in Ukraine pointed out the importance of providing accurate information on the land market while "many Ukrainians remain skeptical about the benefits of land reform." She added that the United States encouraged the Ukrainian government and the media to launch a media campaign to provide clear and accurate information about the reform.
"Together with the EU and banks, the US is ready to support the Ukrainian government in implementing the land reform for the benefit of all Ukrainians," Kvien said.
As reported, President Zelensky signed a law amending the Land Code and other legislative acts to improve the system of management and deregulation in the field of land relations.
ol