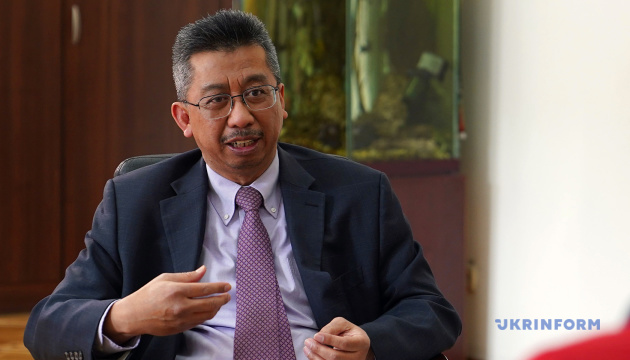 Incentives needed to increase Malaysian investment in Ukraine - ambassador
Malaysia is interested in participating in infrastructure projects in Ukraine, but it needs more information and incentives, Ambassador of Malaysia to Ukraine Raja Reza Raja Zaib Shah has said in an exclusive interview with Ukrinform.
"Now President [Volodymyr] Zelensky is trying very hard to attract investment in infrastructure, to build roads. There are a lot of opportunities but we need more information," he said.
"Malaysia can build roads. We have built roads in India, Qatar, Saudi Arabia, and we also build railway tracks. We have very good established companies that have projects overseas. Why can't they come to Ukraine? We need some attractive packages that Ukraine can offer, some incentives that they can offer," he added.
According to the ambassador, there are many objects for privatization in Ukraine that are potentially interesting to Malaysian businesses. "Yes, there are many, including small ports. I will convey this information to Malaysian companies. From time to time, I always do this because I have all this information on which roads or ports are to be given for concession. We hope some Malaysian companies will come here to invest," he said.
Comparing the conditions for investment in Eastern European countries with Ukraine, Raja Reza Raja Zaib Shah said: "Ukraine is a big country with a population of 43 million, one of the biggest countries in Europe. So this is a big market. Regarding some hindrances for some countries to invest in Ukraine, probably, one of the obstacles is finding the right partners or the right companies to collaborate or to conclude some cooperation agreements, to find the suitable company in Ukraine to start a new project or cooperation."
The ambassador said that the Ukrainian side should better present its capabilities in ASEAN countries, organize conferences and roadshows: "Go to Malaysia, the Philippines, Indonesia, Singapore, and explain to them what investment opportunities you can offer to Malaysia or ASEAN."
op