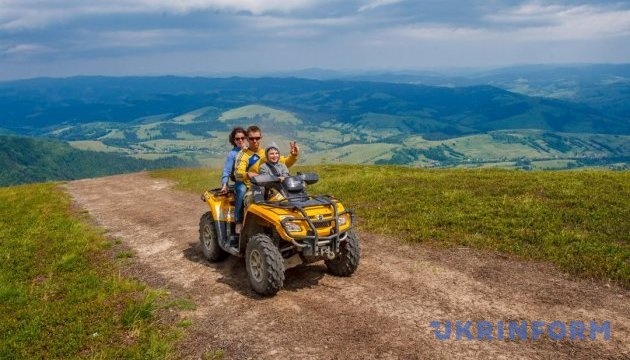 Ukravtodor, tourism agency to develop mountain resorts with Ukrainian businesses
The State Agency for Tourism Development, Ukravtodor and Ukrainian companies Bukovel, OKKO-Holding and Borzhava Eset have signed a memorandum of cooperation on the development of mountain resort infrastructure.
The signing ceremony took place on February 24 as part of the All-Ukrainian Forum "Ukraine 30. Infrastructure," according to an Ukrinform correspondent.
Cooperation is planned as part of the implementation of the State Strategy for Regional Development for 2021-2027 and the Great Construction program.
"We aim to unite the efforts of public authorities and local entrepreneurs to create favorable conditions for the development of tourism as one of the providers of improving Ukraine's economy. This is especially important for the Carpathian region, where the development of tourist infrastructure involves, first and foremost, the creation of jobs," Head of the State Agency for Tourism Development Mariana Oleskiv said.
She said that according to the agreements reached, the State Agency for Tourism Development would hold consultations with tourism market participants and local communities. Following the consultations, the agency will provide Ukravtodor with specific proposals to improve the condition and infrastructure of roads, taking into account the attractiveness and priority of tourist "magnets."
"Roads to mountain resorts should be comfortable, safe and they should not become another element of an extreme tour. We support the implementation of the project 'Carpathian Circle of Resorts,' which will help create comprehensive tourism products within the region: from green tourism to cultural events of world importance," the participants said.
According to Head of Ukravtodor Oleksandr Kubrakov, the first results of the project have already been reached, with 67.8 kilometers of roads restored within the Carpathian region (the Lviv, Zakarpattia and Ivano-Frankivsk regions). In total, the repairs will cover 248.9 kilometers of state roads and 36 transportation structures.
"Our common task is to develop the tourist infrastructure, create locations that meet international standards and are comfortable for visitors. Thanks to Great Construction's subproject called 'Small Carpathian Circle,' we have real opportunities to achieve these goals," Kubrakov said.
Deputy Head of the President's Office Kyrylo Tymoshenko said earlier that the project "Small Carpathian Circle" was part of the president's Great Construction program. New roads will connect resorts in the Lviv, Zakarpattia and Ivano-Frankivsk regions.
op