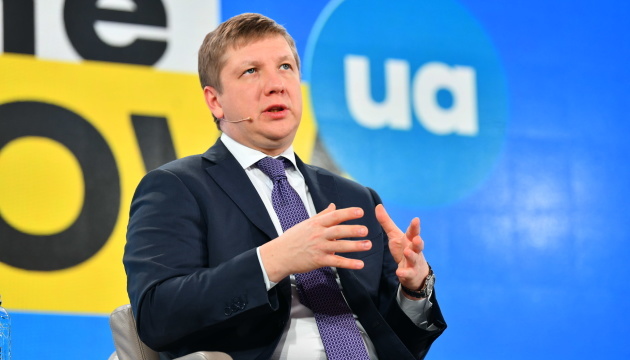 Naftogaz approves development strategy until 2025
Naftogaz Group is presenting its business strategy, which determines the stages of the company's development and transformation until 2025 and which was approved by the company's supervisory board.
According to an Ukrinform correspondent, the presentation is taking place as part of the All-Ukrainian Forum "Ukraine 30. Payment Documents."
"At this stage, the strategy 'From the mining company to the national energy services operator' has been approved by the supervisory board. In the near future, it will be sent for consideration by the Cabinet of Ministers - our shareholder," Naftogaz CEO Andriy Kobolyev said.
He stressed that the document was the product of very long discussions and work of the entire Naftogaz team.
The strategy outlines the areas, terms and means of Naftogaz Group's transformation from 2021 to 2025.
The strategy's main message is to transform the company from a purely mining company to a national energy services operator. In particular, it envisages three areas of the company's business development: gas business, trading and wholesale, and an energy service provider for consumers.
This is Naftogaz's third attempt to determine the company's development strategy. In 2014, Naftogaz's strategic goals were not approved by the Cabinet of Ministers. In 2017, the government did not approve Naftogaz's strategy "Affordable Energy for Ukraine."
In late 2020, the Cabinet of Ministers approved a new ownership structure of the company and its strategy.
Today, Naftogaz Group is the largest taxpayer in Ukraine and accounts for 11% of all budget revenues.
op