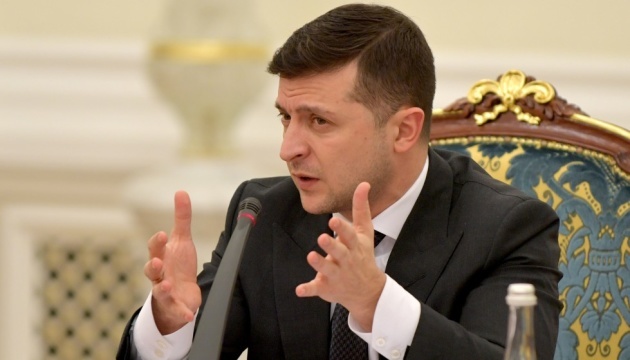 President: Ukrainian delegation returns from UAE with specific agreements
President Volodymyr Zelensky assures that the visit to the United Arab Emirates resulted in specific and important agreements with representatives of the Emirati state and business.
Ukraine is looking forward to the arrival of UAE's investors, the Head of State told Ukrinform on February 15.
"I am concluding my official visit to the United Arab Emirates. We return to Kyiv with specific and important agreements reached during the meetings with representatives of the Emirati state and business," the President said.
The Head of State, in particular, said that he called on the UAE to invest in the Ukrainian economy. "Ukraine has a huge potential: geopolitical location, natural resources, educated people," he said.
Zelensky noted that the Ukrainian delegation signed a number of memoranda and contracts worth a total of $3 billion.
According to him, among other things, the agreements on UAE's food security ensured by Ukraine "because our black soils are known around the world for their harvests", as well as a memorandum with the Mubadala Investment Company, which "should pave the way for large-scale investments in our economy from Western Asia" were reached.
In addition, the President stressed that the Ukrainian delegation was interested in the United Arab Emirates' experience in implementing innovative projects.
The President noted that during the visit he met with Chief Executive Officer of one of the world's largest port operators, DP World, Sultan Ahmed bin Sulayem and invited DP World to participate in the development of seaports in Ukraine.
Zelensky assured that the problem of the COVID-19 pandemic was not neglected during the visit and reminded that the Ministry of Foreign Affairs of Ukraine together with the Ministry of Health should establish a joint working group for cooperation and exchange of experience with UAE's side in matters related to COVID-19 vaccination.
"Relations between Ukraine and the United Arab Emirates have great potential. We are looking forward to the arrival of Emirati investors who will offer new ideas and solutions on the Ukrainian market," Zelensky summed up.
As reported, President of Ukraine Volodymyr Zelensky and First Lady Olena Zelenska made a state visit to the United Arab Emirates on February 14-15.
ol