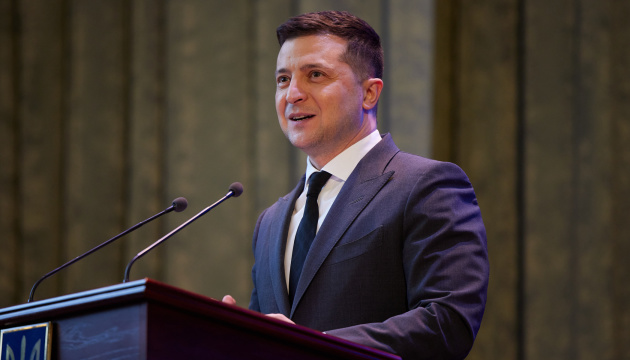 Zelensky: Investment in economy is one of key areas of Ukraine's relations with UAE
Deepening and expanding Ukraine's bilateral relations with the United Arab Emirates is a priority of the Ukrainian foreign policy, President Volodymyr Zelensky has said.
"The UAE is one of Ukraine's key partners in the Middle East, and our country pays special attention to the development of relations with the Emirates. Maximizing and expanding bilateral relations with the UAE is a priority of our foreign policy," he said in an interview with the Emirates News Agency WAM, the president's press service reports.
The Ukrainian president described the relations between Ukraine and the UAE as quite dynamic and with a stable tendency towards rapid development. Evidence of this are economic indicators, including bilateral trade, the state of the legal framework (more than 30 bilateral agreements and memoranda of cooperation), cultural and humanitarian cooperation.
When asked about the economic ties between the two countries, Zelensky stressed there has been a steady tendency between Ukraine and the UAE to intensify trade and economic cooperation. "This is confirmed by the fact that currently more than 200 Ukrainian companies operate in the UAE," he said.
According to him, the total volume of trade in goods and services between Ukraine and the Emirates in 2019 amounted to USD 1.65 billion.
At the same time, President Zelensky added that the corona crisis somewhat slowed down economic activity and said he hopes that the resumption of global activity in this and subsequent years will have a positive impact on the bilateral trade.
He noted that the main export positions of Ukraine in the UAE are still the products of the agro-industrial complex and metallurgy. "We also strive and work to ensure that high-tech products with high added value begin to dominate our trade structure," he said.
According to President Zelensky, Ukraine is ready to invite our Emirati colleagues to focus on joint projects of production of such high-tech goods. "Ukraine has the appropriate technologies, and with the help of investments from the UAE, we can create such products for our own needs and for the supply to third country markets," he said.
In particular, President Zelensly said that such a high-tech field could be space: "We commend your country's achievements in space, including the successful mission of the Hope probe. With one of the world's leaders in this field, Pivdenne design bureau, we can jointly expand our space capabilities".
He added that Ukraine will create the most favorable conditions for investors and will continue to work with Emirati investment funds, companies and private investors.
As reported by Ukrinform, President of Ukraine Volodymyr Zelensky and his wife Olena Zelenska are on an official visit to the United Arab Emirates on February 14-15.
iy