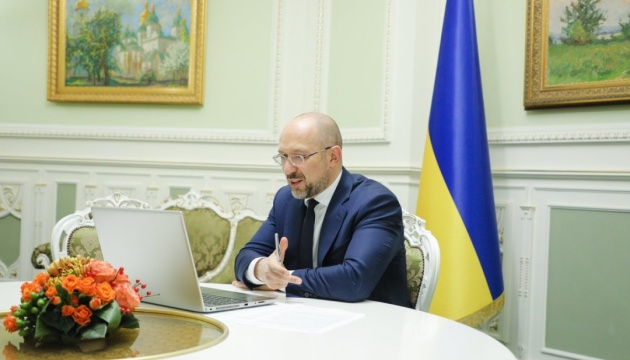 Shmyhal, IMF representatives discuss gas price
Ukrainian Prime Minister Denys Shmyhal has discussed the price of natural gas with representatives of the International Monetary Fund (IMF) and said that the Ukrainian government would seek a compromise to protect people from unjustified increases.
Shmyhal wrote this on his Telegram channel, according to an Ukrinform correspondent.
"We had a constructive meeting with the IMF on gas prices. Our government's position is that the gas market in Ukraine must work. Unfortunately, some market players continue to abuse their position, and Ukrainians suffer from that," he said.
According to him, the authorities should find a compromise to protect people as soon as possible and help the gas market develop in the future.
Tariffs for natural gas and its transportation grew in Ukraine on January 1, and the preferential price per 100 kW of electricity per month for private consumers was abolished.
The rise in prices for utility services led to a number of protests in Ukrainian regions, in particular, in the Kharkiv, Poltava, Mykolaiv, Kherson, Chernivtsi, Ivano-Frankivsk, and Chernihiv regions.
Shmyhal said on January 11 that the Cabinet of Ministers had developed two approaches to reduce the price of natural gas for households.
Shmyhal said on January 12 that the Cabinet of Ministers would introduce the state regulation of gas prices during lockdown restrictions or until the end of the heating season, with the proposed price being UAH 6.99 per cubic meter. According to him, this means an over 30% reduction in natural gas bills.
A mission from the IMF's European Department on the first review of the Stand-By Arrangement (SBA) resumed its work in Ukraine on January 11 and plans to hold a series of meetings with government officials.
op