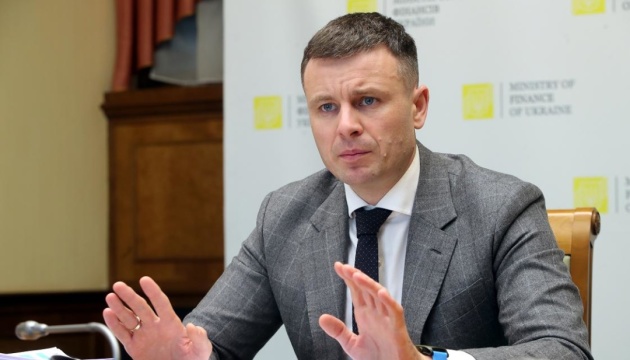 IMF concerned about Cabinet's plans to reduce gas prices for households - Marchenko
The International Monetary Fund (IMF) is concerned about the Ukrainian government's intention to decide in the near future on a reduction in natural gas prices for household consumers, Finance Minister Serhiy Marchenko has said in an interview with Radio NV.
He noted that Ukraine, in its memorandum with the IMF, has made clear commitments on market tariffs in the natural gas market. Marchenko stressed that the decision to reduce prices has not been made yet. This can be done soon. The minister added that consultations are constantly held, including with the IMF. The issue of gas tariffs has been discussed since the beginning of the week.
"Our partners know that such a decision is possible. They have a respective reaction. They are concerned that we are reviewing some of our previous commitments. The question now is whether this could be part of a mechanism or a temporary decision. The acting energy minister is actively dealing with this. Yesterday, by the way, we had a call from the IMF. I think that relevant consultations will also be held today. That is, it is a permanent process. It happens all the time. There are so far no [grounds] to say categorically that we have already done something very bad," Marchenko said.
According to him, the government is trying to explain to the IMF that the failure to decide on a reduction in prices could have quite negative consequences for the economy as a whole. "That is, the question is how well-argued we will prove this position," Marchenko said.
Natural gas prices in Ukraine have risen significantly since January 1. Supplier prices range from UAH 6.99 to UAH 10.8 per cubic meter. The decision to increase gas prices led to protests in a number of cities.
On Wednesday, January 13, a meeting was held with the participation of President Volodymyr Zelensky, Prime Minister Denys Shmyhal, representatives of the National Commission for State Regulation of Energy and Public Utilities, and Naftogaz CEO Andriy Kobolyev. During the meeting, the decision was made to reduce the price of natural gas by more than 30%, to UAH 6.99 per cubic meter. The state regulation of gas prices will be introduced during lockdown or until the end of the heating season.
op