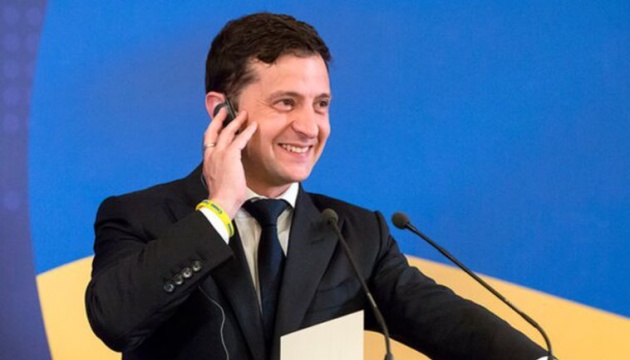 Zelensky held phone talk with IMF Managing Director
President of Ukraine Volodymyr Zelensky had a phone conversation with Managing Director of the International Monetary Fund (IMF) Kristalina Georgieva.
As the Office of the President of Ukraine reports, the head of the IMF inquired about the state of health of the Ukrainian president and wished him a speedy recovery.
During the talk, the parties discussed the epidemiological situation in the world and the uncertainty for the world economy due to the COVID-19 pandemic.
Zelensky stressed that Ukraine highly appreciated the comprehensive support of the IMF: "I am grateful to you and the Fund's team for the decision to increase the first tranche within the stand-by program to $ 2.1 billion, which allowed us to go through this period and finance the expenditures for healthcare, social programs and financial obligations".
Zelensky noted that Ukraine had not stopped at fulfilling its obligations under the stand-by program. Among other things, Ukraine has approved the reform of customs and tax service, the Ministry of Finance and the National Bank are actively working to reduce the share of non-performing loans in the banking system.
"To date, all structural benchmarks stipulated for the revision of the IMF program have been completed," he said, adding that he consistently supported the independence of the National Bank.
The parties also discussed the importance of adopting a balanced budget for 2021, as well as the risks of the recent decision of the Constitutional Court to repeal some provisions of anticorruption legislation.
"For me, continuing the reform of anticorruption bodies is one of the priorities. We made a number of urgent steps and decisions, including a meeting of the National Security and Defense Council, the government issued an order to ensure the functioning of the register of e-declarations, and I submitted a bill to reset the entire Constitutional Court to the parliament. Today there are no threats to NABU's activities. Our teams discussed the full return of e-declaration and noted the action plan and preparation of relevant bills," Zelensky said.
In addition, Zelensky noted that due to the fight against the coronavirus epidemic and the economic challenges associated with COVID-19, the first revision of the Fund's program and the launch of the mission would be an important signal for the domestic and foreign markets.
"Our teams enjoy strong trust and work closely to complete the negotiations and welcome the IMF mission as soon as possible," he said.
Managing Director of the International Monetary Fund Kristalina Georgieva stressed that the work of the Prime Minister with the Fund's team had strengthened the relations between the parties at a high level and allowed achieving tangible progress. She also noted the quick reaction and measures taken by the Ukrainian authorities after the decision of the CCU, and added that the Fund appreciated the cooperation of the NBU Governor Kyrylo Shevchenko with the IMF team.
iy