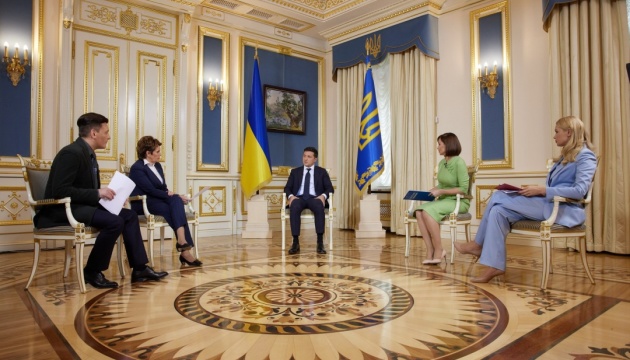 Zelensky says Ukraine fulfills all conditions for next IMF tranche
President Volodymyr Zelensky believes that Ukraine has fulfilled all the requirements of the International Monetary Fund (IMF) to receive the next tranche.
He said this in an interview entitled "Autumn 2020: Victories and Challenges" to four Ukrainian TV channels on Thursday, October 22, according to an Ukrinform correspondent.
"We received the first tranche. We have been waiting for the second tranche for a very long time. There are requirements from the International Monetary Fund. I think that we have fulfilled them. It's my personal opinion. But I believe that - and this is true - there are people both inside and outside the country who are working against Ukraine. It's true. And they, believe me, are lobbying their interests so that there is no stability in Ukraine," Zelensky said.
However, he did not give the names of these persons, referring to the election process in Ukraine.
"The economy in Ukraine has been built in such a way that we cannot survive without Western money. It's true. People need to know about this. Therefore, it was impossible to abandon the International Monetary Fund. I am grateful to them for their help. This is our strategic partner, but they are well aware that if our economy was in better condition, we could refuse the IMF loan and, if necessary, raise money for specific infrastructure projects from the World Bank and other financial institutions. But now our economy is fragile," Zelensky added.
On October 21, the Government created an interagency working group to coordinate the negotiation process with the International Monetary Fund. The National Bank of Ukraine (NBU) expects to receive a tranche from the IMF at the end of 2020.
ish