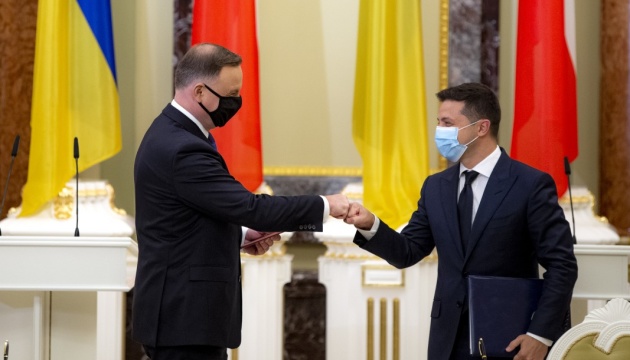 Ukraine, Poland hope to recover pre-pandemic level of trade
Ukraine and Poland can recover the positive dynamics and growth of trade and economic cooperation which slowed down in the first half of 2020.
"Of course, we also focused on trade, economic and investment cooperation during the talks. For objective reasons, the pace of our bilateral trade somewhat slowed down in the first half of 2020. However, now we can recover the positive dynamics and growth of previous years. The scope of Polish investments in the Ukrainian economy, the active cooperation between our regions, and the implementation of important joint projects encourage optimism," President of Ukraine Volodymyr Zelensky said at a joint briefing with President of Poland Andrzej Duda in Kyiv on Monday, an Ukrinform correspondent reports.
According to the President of Ukraine, it is also very important to resume the regular work of the intergovernmental commission on economic cooperation.
"In general, a number of very important documents were signed during the visit of Mr President's visit to Ukraine. They imply clear prospects for increasing investment in our economy, plans for combining transport and transit potential," Zelensky said.
October 13, Zelensky and Duda will visit the Ukraine-Poland Economic Forum in Odesa, where officials, businesspeople, and representatives of the two countries' regions will discuss transport, transit, energy, and infrastructure cooperation.
"We expect that this forum will bring concrete and real practical achievements," Zelensky stressed.
In turn, the President of Poland stated that the period of coronavirus crisis should pass without losses in the economic cooperation between Ukraine and Poland.
"Over the past year, the trade between our countries has weakened somewhat due to pandemic and closure of borders. It is necessary to go through this so that as few enterprises as possible suffer," Duda said.
According to him, the economic cooperation between Ukraine and Poland as between the nearest neighbours is "of great and strategic importance."
The President of Poland added that close economic cooperation also involves the formation of common energy security, in particular in the context of signing an agreement between the Polish Oil and Gas Company PGNiG and the State Property Fund of Ukraine on the Polish company's participation in privatization processes in Ukraine.
Duda pointed out that Ukraine-Poland commodity exchange totalled more than EUR 7.5 billion last year, and 1,200 Polish-Ukrainian companies operate in Ukraine now.
Poland's leader noted that he and his Ukrainian counterpart would try to stimulate the development of economic cooperation between Warsaw and Kyiv. In particular, smooth crossing of the common border will be one of the issues that the presidents will pay special attention to.
As reported, President of Poland Andrzej Duda and Poland's First Lady Agata Kornhauser-Duda make a state visit to Ukraine on October 11-13.
ol