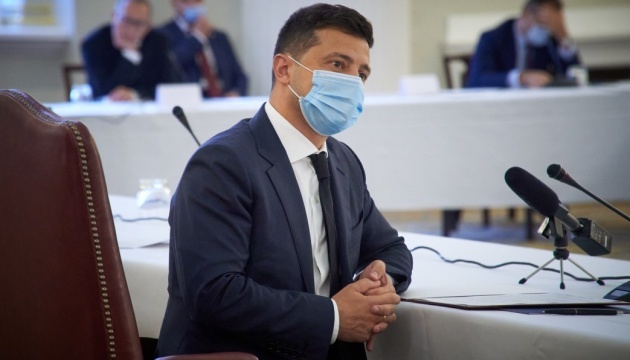 Zelensky: National Bank was, is and will be independent
President Volodymyr Zelensky has said he expects Ukraine will be more economically stable than other countries during the coronavirus crisis, as key industries such as agro-industry and IT have been hit less.
He stated this during his meeting in London with representatives of the largest investors in Ukrainian government securities, Ukrinform reports with reference to the president's press service.
"We do everything for your protection, confidence, potential development and new projects," Zelensky told investors.
He noted that the coronavirus pandemic was a challenge for both the world and Ukrainian economies. At the same time, the Ukrainian government forecasts that Ukraine's economy will reduce by 4.8% this year, but a significant recovery up to 4.6% is expected next year.
"We expect that Ukraine will be more economically stable than other countries, as key industries, including agro-industry and IT, have been hit less and will contribute to economic recovery," he said.
Zelensky added that the support of international partners is crucial for Ukraine.
"We are grateful to the IMF, the EU and the World Bank for financial support packages for our country and support for important reforms in Ukraine," he said.
Zelensky has noted that Ukraine has been consistently implementing all the reforms envisaged in the Memorandum with the IMF, in particular, the gas market for private consumers has been liberalized and a transparent market of agricultural land has been introduced.
In addition, since the appointment of a new governor of the National Bank of Ukraine, the central bank continues carrying out a prudent monetary policy to ensure macroeconomic stability.
"The National Bank was, is and will remain independent," Zelensky assured.
As reported by Ukrinform, President Volodymyr Zelensky was on an official visit in the United Kingdom on October 7-8.
iy