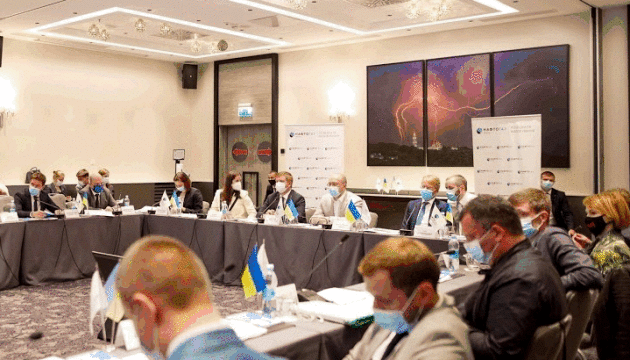 Naftogaz presents projects on increasing hydrocarbon reserves
Naftogaz Group has developed strategic directions and projects of natural gas production in Ukraine, the company's press service reported.
The presentation of the projects took place on September 8 and was attended by Prime Minister Denys Shmyhal, heads of ministries and central government bodies, as well as Ukrainian MPs.
"Naftogaz Group, as a state-owned company and leader in the gas industry, is ready to implement pilot projects in new production areas and reduce their risks for the entire market. In particular, prospects for the development of deep horizons, unconventional gas deposits from tight rocks and the Black Sea shelf were presented to participants in the meeting," reads the report.
Naftogaz Group also aims to increase the resource base through the exploration of new areas obtained through tenders and auctions. At the same time, the company also noted that it important to extend the term of an incentive rent for production from traditional gas fields and simplify licensing procedures.
"For Ukraine, its own gas production should become the basis of energy independence. Today we have unhindered access to the EU gas market, which also contributes to the diversification of energy sources. At meetings with the participation of the President, we have repeatedly raised the issue of increasing our own production. It is necessary to carry out a needed exploration, complete exploration plans, which have been partially completed, and promptly launch production. For its part, the government is making every effort for this, we also count on the relevant legislative initiatives from MPs," the company's press service cited Prime Minister Shmyhal as saying.
In turn, Naftogaz CEO Andriy Kobolyev said that Ukraine has prospects to move from stagnation to growth in gas production, but stressed that this requires government support.
As reported by Ukrinform, the presentation of strategic directions of gas production development took place in Kyiv on September 8.
iy