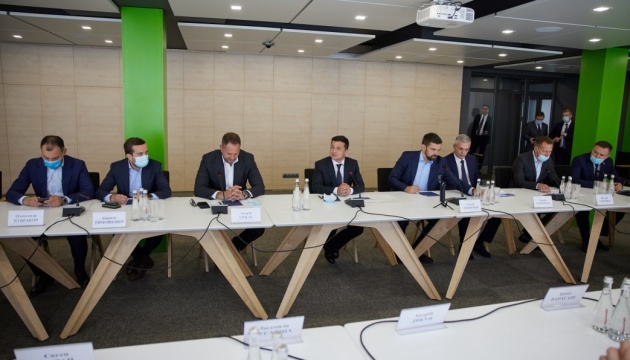 Ukrainian president meets with business representatives of Cherkasy region
Ukrainian President Volodymyr Zelensky has met with business representatives of the Cherkasy region as part of his visit to the region, the presidential press service has reported.
According to the report, the participants in the meeting discussed the problems of entrepreneurs in the region and ways to solve them.
"I always want to have live communication and live dialogue, without any rehearsals. You hear people and understand their problems. And you can say exactly where you can help them," Zelensky said at the beginning of the meeting.
Agribusiness representatives thanked the head of state for the changes in the industry that have taken place under the current government. In particular, they thanked him for signing the law on cooperation, which gives a chance for the development of small and medium-sized businesses. Last year, there were also significant positive changes in the cadastral system, especially in the fight against corruption.
During the conversation, Zelensky promised to help improve the credit system for agribusiness.
"When it comes to the irrigation system, we can talk about a separate format of lending at least with state-owned banks, for example, at 3-5%. Put forward your proposals," he said.
At the end of the meeting, Zelensky stressed that the government and business need a dialogue. Therefore, he asked for meetings with the head of the regional state administration to be held at least once a month to discuss current issues. He also said people could contact him if there are issues that cannot be resolved without the president.
op