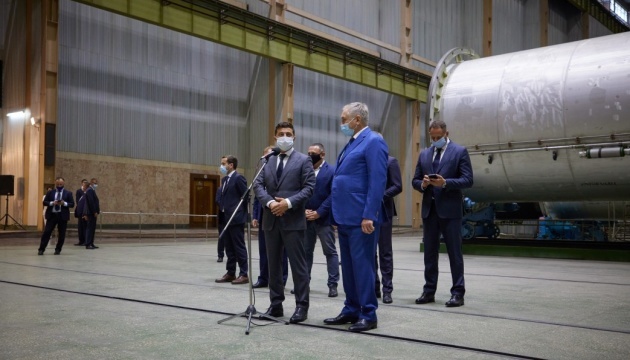 Zelensky: We admire Elon Musk but forget about our Pivdenmash
President of Ukraine Volodymyr Zelensky dreams of making Dnipropetrovsk region the space heart and brain of Europe.
"I dream that Dnipropetrovsk region will become the space brain and heart of not just Ukraine, but of the whole of Europe. We admire Elon Musk very often, applaud his projects but for some reason forget that we have Pivdenmash [state-owned aerospace manufacturer], incredible specialists who have unique knowledge and unique experience. The state will always support them and reveal this potential as much as possible," Zelensky said at the presentation of the Dnipropetrovsk Region Development Strategy until 2027, an Ukrinform correspondent reports.
The President reminded that Dnipropetrovsk region is his native land, where his parents now live, and assured that the region is truly unique and has a great future in many completely different areas.
"The strengths of the region are, first of all, the mining industry, metallurgical engineering, energy, food and agriculture sector. Environmental protection and infrastructure projects are promising for development. I mean not only the Dnipro International Airport, where I would very much like to arrive on my next visit," the Head of State said.
He noted that the region is a leader in metallurgical production, followed by a large amount of waste.
"Waste may be piled up and spoil the environment or may be used for the construction of infrastructure, road construction," the President added.
Today, President Volodymyr Zelensky makes a working trip to Dnipropetrovsk region.
ol